Saquon Barkley Suffers Nasty Leg Injury in Final Minutes of Giants-Cardinals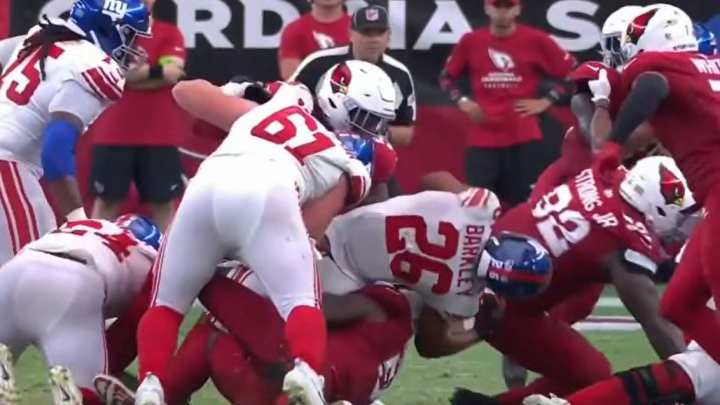 The New York Giants mounted a furious late comeback to beat the Arizona Cardinals 31-28 in Week 2. To do that, they leaned heavily on running back Saquon Barkley. Unfortunately, late in the game, Barkley appeared to be seriously injured after being bent backwards. It looked terrible.
Here's video of what happened as Barkley was bent backwards on a tackle by Krys Barnes:
That does not look good as Barkley couldn't get off the field under his own power. He later slammed his helmet down, which is not a great sign.
The two-time Pro Bowler had 92 yards and two touchdowns on 23 touches during Sunday's game. He's a huge part of what the Giants want to do on offense, so this will be a major blow to the franchise.
Barkley was a big part of a group of NFL running backs who demanded better pay during the offseason. Ultimately, he signed a one-year, $10.091 million deal, but was adamant that he wanted a long-term deal with more security. Injuries like this are a big reason why.