Sandy Alcantara Wanted the Damn Ball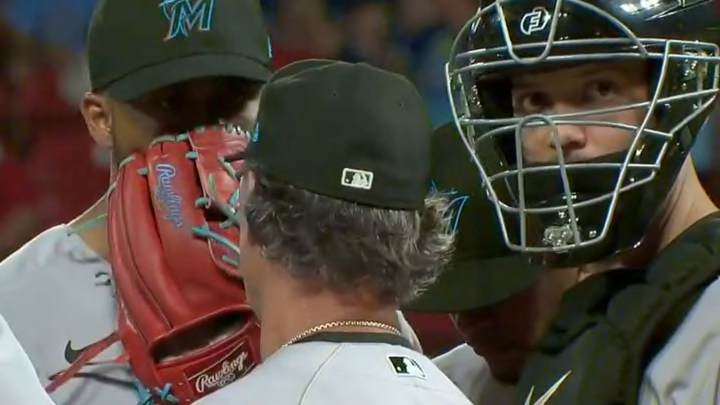 There is nothing like being a pitcher. A quarterback may be more at the center of the frame. A point guard may have more name recognition. A goaltender may have a more thankless, demanding job. But a pitcher gets to ignite the first creative spark of every play and they get to do it on their own time. The game moves on when they are ready, not a second before. The artisanal blend of physical and mental challenges brewed up 60 feet, 6 inches from home plate pushes the palate and is an acquired taste. Half the time it leaves an acrid, unsatisfying taste in a mouth dry from exertion and anxiety.
It is a beautiful, delicate dance requiring technical perfection. It is also a brute and savage act of violence, performing an unnatural motion hundreds, then thousands, then hundreds of thousands of time, knowing there will be a bill to pay eventually. Pitching asks a person to be stoic in a storm and to harness divergent energies within a 17-inch plate.
To pitch is to have the memory of a cornerback and the confidence of someone bluffing their way through the World Series of Poker. Because even when you have your best stuff there's no guarantee a seeing-eye single or a single hanging breaking ball won't do you in. Even when you're holding what should be a losing hand, there are ways to play it that terminate with you taking the rake.
All of this is to say a pitcher has to want the ball. If the manager wants it, they'd better be prepared to take it from a cold, dead hand. There are many paths to success on the hill — be it a triple digit fastball or crafty painting — but the commonality is feeling the stitches in your hand and knowing it'll rip you apart to hand them over.
Sandy Alcantara wants the ball. He kept the ball last night in the ninth inning last night with his Miami Marlins clinging to a 4-3 lead over the St. Louis Cardinals and the winning runs on base. His manager Don Mattingly strode out to the mound for a mileage check after 115 pitches — an astronomical number in this conservative economy — and was met with a revving engine of pushback.
In no uncertain terms, the young righthander who is enjoying an All-Star-caliber season, told Donnie Baseball that this was his baseball. That he'd be using it to record the 26th and 27th outs of the contest and announcing for all to hear that he does, in fact, have that dog in him. Alcantara got his way. He was always getting his way because giving him a chance to finish what he started was always the right decision. Even if it didn't work out.
Mattingly knew this. He knew that establishing this capital was more important than every single game. And one doesn't have to be a religious person to believe that Edmundo Sosa roping a shot two pitches later directly at second baseman Jon Berti was a reward from the baseball gods. A nifty double play later and Alcantara had his perfect game and a visceral moment that will follow him around as a badge of honor.
All that prose to say it was badass. The platonic ideal of the art form. A merging of mental and cerebral fortitude impressive to behold yet still, as the game always is, fickle and arbitrary. A few feet in either direction and there's no double play. It's a tie game and Alcantara gets a no decision and Mattingly's decision is attacked.
But that's not what happened. You either die a hero or you live long enough to see yourself become the villain. In pitching, though, you can live long enough to see yourself become the hero again by asking for one last job.
There's nothing like it.