There Was No Rust on San Francisco's Buzzsaw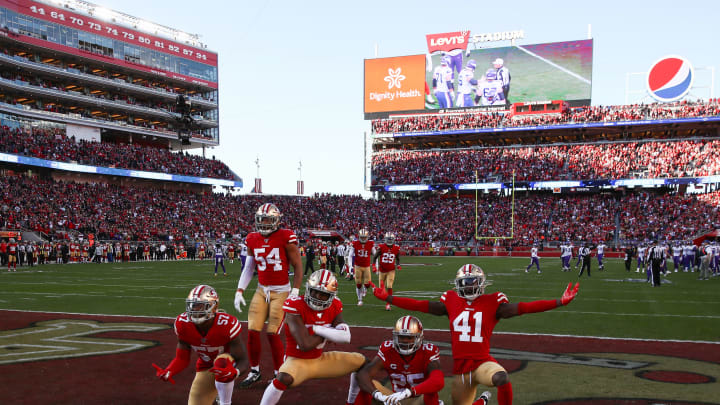 San Francisco keeps rising to the moment. / Ezra Shaw/Getty Images
The San Francisco 49ers were the surprise of the NFL this year, compiling a 13-3 record and earning homefield advantage throughout January. A good portion of the audience spent week after week waiting for the inevitable other foot to drop. For Jimmy Garoppolo to look like a deer in the headlights. For the defense to show signs of vulnerability.
Believers wanted to see them do it in the playoffs in order to believe even more. They wanted to see how Kyle Shanahan's team responded to a do-or-die test after a week off. The bye has tripped up good team and elite teams alike as the rust sets in and tanks the value of a pristine season.
But these Niners didn't look rusty. They didn't look rattled. They didn't look tight. They looked like the best team in the conference playing with a heaping basket of confidence in a commanding 27-10 victory over the Minnesota Vikings.
San Francisco wasted no time asserting dominance, forcing a three-and-out and marching down for a 61-yard touchdown drive on the game's first two possessions. After a Stefon Diggs score evened things up, the home side turned off the faucet for the rest of the game.
Minnesota mustered just three points after that. Dalvin Cook was non-factor, accumulating 18 yards on nine carries. Kirk Cousins was harassed all afternoon and ended up with a paltry 127 yards before garbage time. He was also sacked six times. The Vikings picked up seven first downs in total and went the first 26 minutes of the second half without one.
On offense, the Niners were equally brutish. They established the run and stuck to it. Five different rushers combined for 187 hard-fought yards. It wasn't sexy but it didn't need to be.
What did we learn about this team that's been winning all year long? We learned that they're more than ready to keep winning: at home next week and perhaps in the Super Bowl. They are a sum of their parts and those parts are all working in concert right now.
Lethal speed while defending and tremendous imagination while possessing the ball is a brilliant combination. Both of those things travel and don't wilt in big games. For all the trepidation about their new-kids-on-the-bock status, there are logical football and visual reasons to trust them.
And so the conversation turns from rust to trust. Either Green Bay or Seattle will be in the Bay Area next Sunday. The home team will be favored. They've more than earned their way here and, finally, after all this time, the right not to be doubted.