Sam Houston State Blows 21-10 Lead After Fan in Inflatable Penis Costume is Kicked Out of Game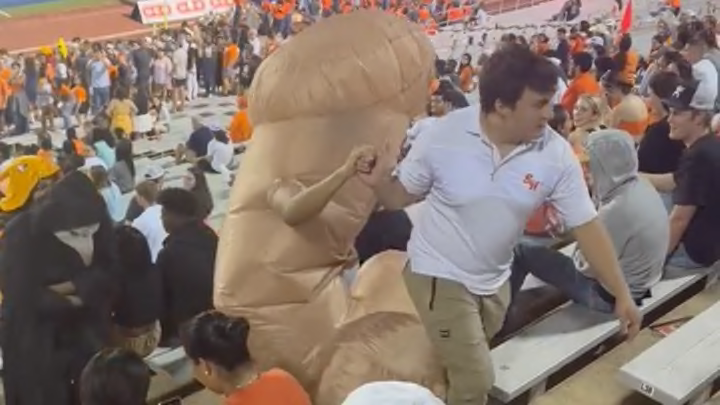 Sam Houston State hosted UTEP on Wednesday night at Elliott T. Bowers Stadium in Huntsville. The Bearkats came into the game with an 0-7 record, but jumped out to a 21-10 with less than a minute remaining in the first half. Everything was going great, until a fan in an inflatable penis costume was escorted out by security.
At least that's what it looks like. When you have a polo with the school logo and khakis, you look official. It could have just a good friend helping someone in a penis costume navigate the stairs safely. Either way, the moral of this story is don't be a dick. When a friend asks for help, you help him. No matter what he's wearing. You certainly don't want to see someone dressed like that to fall down the stairs. It could cause irreparable damage to that costume. You tear something and it probably won't work right.
Whatever the situation, after this video was posted on Twitter UTEP went on a 24-7 run and took the lead on a field goal with just 0:03 left on the clock. The good news is that with the loss Sam Houston State is now 0-8 and in great position to be a Jim Harbaugh landing spot because they obviously pay close attention to anyone who sticks out in the stands.