Latest Bill Simmons Leads
Ryen Russillo Took a Shot at 'The Jump' and Bill Simmons Got Really Quiet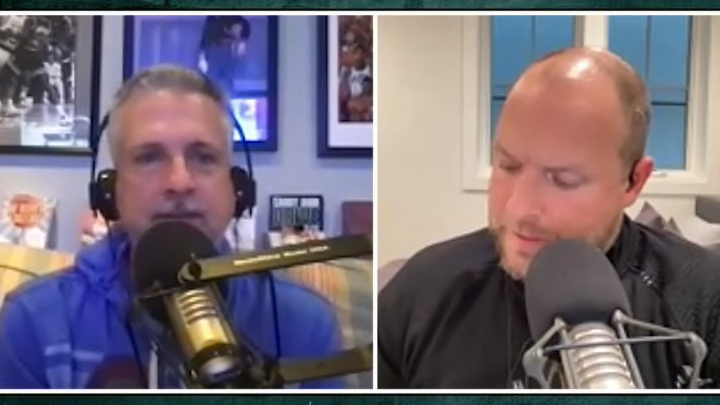 Bill Simmons and Ryen Russillo on "The Bill Simmons Podcast" /
Ryen Russillo and Bill Simmons were talking NBA on Monday's episode of The Bill Simmons Podcast and things got a little awkward when ESPN programming came up.
During a discussion about LeBron James' culpability for the Los Angeles Lakers' disastrous trade for Russell Westbrook, Russillo took a shot at The Jump. As soon as that happened, Simmons got really quiet and changed the subject as quickly as he could.
At around the one-hour mark, Russillo claimed that eventually a major media member will come out and say James wasn't fully on board with trading for Westbrook. Simmons agreed that if the Lakers trade Westbrook that piece will be released within 36 hours.
Russillo claimed someone had already basically run that story by him and he shot it down. Then said, "I'm just telling you, somebody talked to me about it and tried to ... it was almost like a test drive with me. And I was like, 'No, don't even f---ing start with me on that LeBron wasn't totally on board with this.' Like don't even, don't tell me that. I don't work on The Jump alright. That's not going to happen."
Simmons got really quiet and an awkward silence followed. Eventually he said, "Just too many ways to get in trouble right now" and pivoted away from the discussion.
So, first off, The Jump doesn't exist anymore. It was cancelled in October of 2021 and replaced with NBA Today. Regardless of that, the obvious implication here is that one of ESPN's NBA insiders would run with that story if it was given to them and uncritically take James' side. Safe to say there's at least one person there Russillo isn't a big fan of.