Ryan Tannehill Isn't Here to Mentor Malik Willis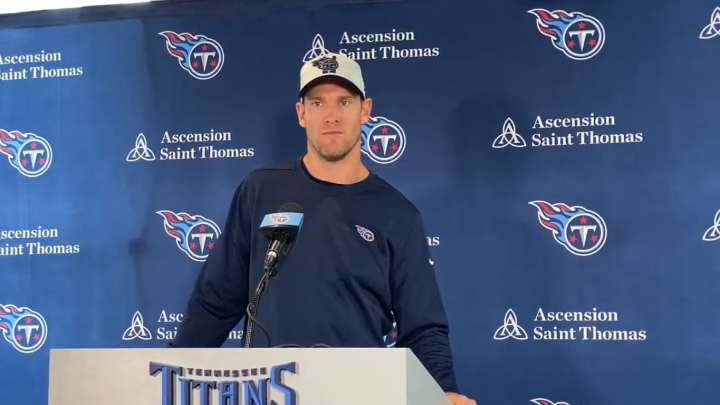 Ryan Tannehill speaks with the media /
The Tennessee Titans selected Liberty quarterback Malik Willis in the third round of the 2022 NFL Draft and immediately thoughts turned to the future of the franchise. Willis was generally agreed upon as the quarterback with the highest upside in this year's class but he'd likely need time to develop behind a veteran. Current Titans quarterback Ryan Tannehill doesn't seem interested in assisting in that development.
During press availability on Tuesday, the 33-year-old quarterback said he didn't think it was his job to mentor Willis, as they would essentially be competing with one another.
Here's what he said:
Tannehill doesn't sound like a guy who's thrilled about the Titans drafting his potential replacement.
In that same press conference, Tannehill told reporters he was not told in advance that the team was trading receiver A.J. Brown to the Philadelphia Eagles. He was also not informed the Titans planned on taking Willis with the 86th pick.
Tannehill has guided the Titans to the postseason in each of his three years with the franchise, including a trip to the AFC Championship Game after the 2019 season. His first two campaigns were brilliant, posting passer ratings of 117.5 in 2019 and 106.5 in 2020. He came back down to earth a bit in 2021 and struggled at times, but was still solid.
Tannehill has two years and $56 million left on his contract and if he's released after the 2022 season the Titans would face a dead cap hit of $18 million.
It will be fascinating to watch what Tennessee does moving forward. Do the Titans think Willis could be their guy as early as 2023? If so, Tannehill could become expendable as soon as next offseason.