Ryan Stanek Freaked Out on Umpire Junior Valentine After a Game-Deciding Balk Call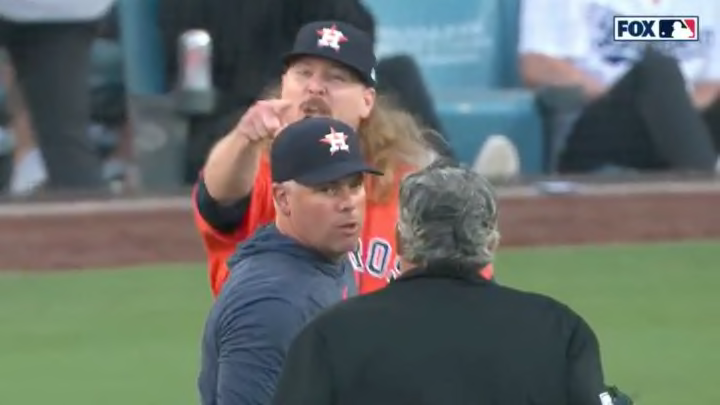 The Los Angeles Dodgers beat the Houston Astros, 8-7, on Saturday night. It was a tie ballgame in the 7th when second base umpire Junior Valentine called Houston reliever Ryan Stanek for a balk. The call came with two outs on a 3-2 count with runners on second and third. The Astros could not believe the call as pinch runner Jonny Deluca trotted home for what would end up being the game-winning run.
Stanek would walk Miguel Rojas on the next pitch, but ended the inning by striking out Michael Busch before more damage was done. But it didn't matter. Once Stanek got out of the inning, he was free to turn around and scream at Valentine. Stanek's back was to the camera for most of his freak-out, but when you could see him he appeared to be hurling some pretty strong F-bombs in Valentine's direction. He really got his money's worth.
Valentine immediately tossed Stanek before walking away. Stanek was pulled off the field with Valentine watching, arms crossed. As for the look he makes here, I'm sure he was just trying to play it cool, but I'm not sure making that face helped. Either way, between Valentine's refusal to engage after the ejection and Stanek being able to compartmentalize and finish the inning before going crazy, there was actually a lot of composure on display here.
The Dodgers and Astros play again tonight on ESPN Sunday Night Baseball. The Dodgers have won both games in the series by one run.