Ryan Clark: Zach Wilson Will Never Start For the Jets Again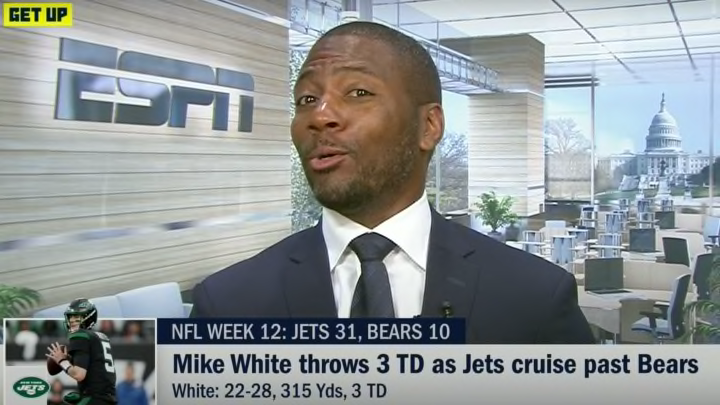 Ryan Clark /
Mike White got his first start of the year for the New York Jets on Sunday and made the most of it, throwing for 315 yards and three touchdowns on 22-of-28 passing. It was not only a vast improvement over Zach Wilson's recent performances, it was a legitimately great game from the former fifth-round pick. Of course it came against a bad Chicago Bears defense but a win is a win and White showed he can do what Wilson cannot-- hit the easy throws.
Ryan Clark argued on Get Up this morning that White's showing and the good vibes that came with it were enough to declare already that Wilson will never start for the Jets again.
It is perhaps the latter half of Clark's argument that holds the most water. White isn't going to play like this every game. As much fun as it is to remember that he dropped 400 yards and three TDs against the Cincinnati Bengals last year, he had a four-interception game two weeks later. There is a reason he has been relegated to backup status since getting drafted in 2018.
But the Jets like playing with White. Yeah, he'll have a couple bad outings, but Wilson was so horrifically bad that a regular bad outing is an improvement. Morale-wise, it's probably easier for the players to deal with losing because White isn't as talented as other starters rather than due to Wilson airmailing wide-open receivers at the line of scrimmage or handing the ball off when it's supposed to be a pass play (as he did during the disastrous New England Patriots game).
All that is basically to say that the bar is on the freaking floor in New York and White is clearing it by a significant margin. He'll continue to do so as long as he doesn't throw his teammates under the bus or throw four picks in a game. The latter is more likely to happen but the former is more important right now. There is no clear path to Wilson regaining the starting job and Clark is probably right that Wilson is done in New York.