Ryan Clark: Steelers Have 'Failed as an Organization' if Mason Rudolph is Their Quarterback Next Season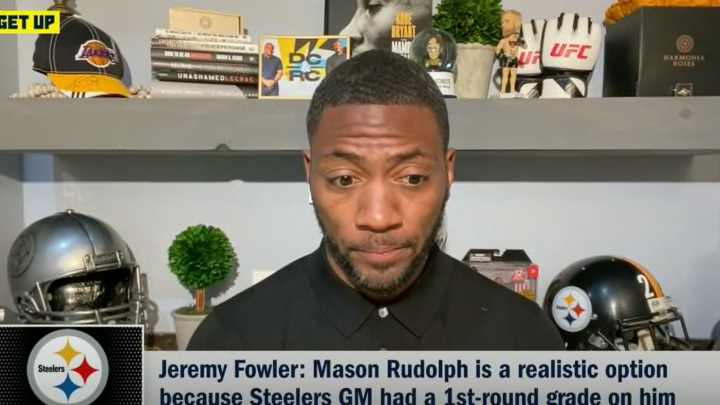 Jeremy Fowler appeared on Get Up this morning to discuss Pittsburgh Steelers' general manager Kevin Colbert's recent comments that the Steelers are excited to see what's next for Mason Rudolph. Colbert is retiring after the upcoming NFL draft, so with that mindset, it seems unlikely they go looking for a successor to Ben Roethlisberger before a new general manager takes Colbert's place this Spring. Fowler says there is a "very real possibility" that Rudolph is the starting quarterback going into the 2022 season. He then asked a despondent Ryan Clark to respond.
In the opinion of the Steelers' former safety, if the team goes into the season with Rudolph as their starter they have "failed as an organization" and are "no longer the Pittsburgh Steelers I love or the fans of Pittsburgh love." This is not the first time he has said something like this.
Clark is actually kind of complimentary of Rudolph, saying he is an average NFL quarterback. His problem is that you cannot compete with Joe Burrow or Patrick Mahomes or Josh Allen if you have Rudolph as your quarterback. The only memorable thing he's done as an NFL quarterback is get attacked by an opponent.
Fowler, Clark and Greenberg seem as confused as you and I about how much pull Mike Tomlin might have when it comes to picking a replacement for Ben Roethlisberger. Colbert is the GM, even if he's got a foot out the door and ownership decides how much they want to spend in free agency. It seems like a recipe for mediocrity and not everyone seems as concerned as Clark.
Mike Greenberg listening to the pain of a Steelers fan. /
That's none of a Jets fan's business.