Ryan Clark Roasts Dan Orlovsky Over Chiefs Take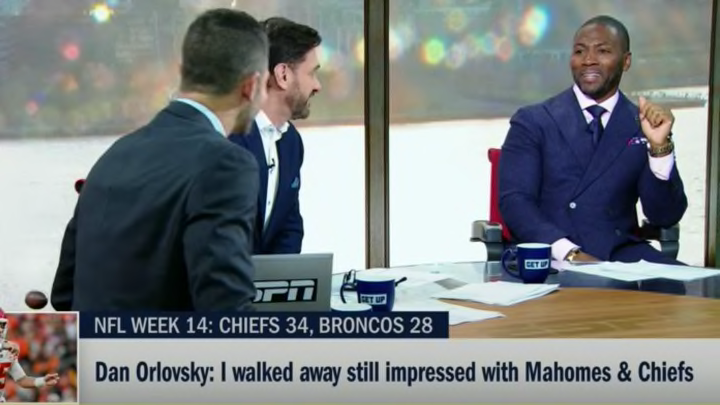 Get Up /
The Kansas City Chiefs escaped Denver with a win over the Broncos on Sunday afternoon but it was not pretty. Kansas City took a very quick 27-0 lead but let the Broncos back into the game thanks to a few boneheaded interceptions by Patrick Mahomes. KC closed the door when it mattered and won 34-28, but blowing that big of a lead is always problematic and especially so when it's the 2022 Denver Broncos making a comeback.
The 28 points the Broncos scored was their highest point total of the season. That is not an honor a defense wants to have and it feels quite problematic in the long term given the Chiefs have championship hopes. There will be much better offenses along their path to a potential Super Bowl.
All that is why Dan Orlovsky got roasted on Get Up this morning for saying he came away generally impressed with the Chiefs. After he expressed this opinion, Ryan Clark said Orlovsky's wife must have picked Dan instead of the other way around because Dan has awful taste. It was a swift yet brutal takedown on television.
"Tory picked you, didn't she?... Cuz you have terrible taste. There's no way you got that right. There's no way you walked up to your old lady, wherever you met her, and you picked her and you shot your shot. She clearly saw something in you and she picked you and you just acquiesced to it. Because if you watched the Kansas City Chiefs yesterday and you say to yourself you don't see a problem?"
This certainly went better than the last time a wife was brought up on sports talk television. Clark is right about the Chiefs, though. To Orlovsky's point, the Chiefs played great football when it mattered most near the end and showed yet again they can slam the door shut at a moment's notice with complementary football across the roster. But it should never have gotten to that point.
The Broncos had their best offensive day of the year against this KC defense. That is extremely concerning no matter what lens you choose to look at it through.