Ryan Clark Cannot Comprehend Lamar Jackson's Placement in ESPN Top QBs Poll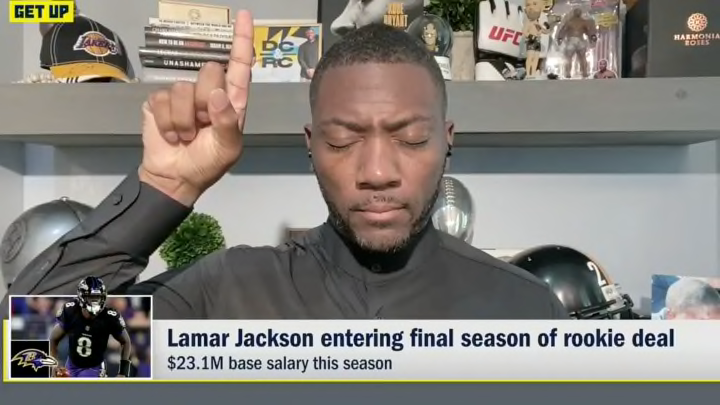 Ryan Clark /
The NFL season is six weeks away which means football content juicy enough to fill the A-block on studio shows is tough to come by. Thankfully, ESPN is here to save the day as the network published an anonymous poll ranking the 10 best quarterbacks in the NFL heading into the 2022 season. A group of team executives, coaches, and players put together their list of the 10 best signal-callers and ESPN took the aggregate to create an all-encompassing list.
There are the usual names you'd expect at the top, with Aaron Rodgers and Patrick Mahomes in the first two spots. Then you've got the Tom Bradys and the Josh Allens and the Joe Burrows. A bit further down is when the controversy begins. The biggest talking point to come out of the list is that Lamar Jackson does not make an appearance in the top 10. He was given an "honorable mention" but voters had the likes of Dak Prescott and Justin Herbert ahead of the NFL MVP.
Ryan Clark took the spotlight on Get Up this morning to express his utter shock that Jackson's peers do not recognize him as a top-10 QB.
Here's what ESPN wrote about Jackson's absence from the top spots:
Keeping a quarterback with an MVP award and a 37-12 record as a starter off a top-10 list is surprising, but that's exactly what more than half of the voters did. Despite standout moments in 2021 -- including 442 passing yards on Monday Night Football against the Colts in October -- Jackson finished the year with a career-low 50.7 QBR. He struggled mightily in his last three full games with six interceptions and 13 sacks as teams blitzed him heavily. And he missed the last month of the season with an ankle injury, fueling concern about how his running style will hold up long term.

"Hard to stay healthy when you run that much; he's actually gotten a lot better as a passer," an NFL offensive coach said. "But if you play that way [with a run-heavy attack] and it's a close game and you're down, it's really hard to win, because you're asked to do what you only minor in, not major in, and that's passing the ball when they know you are gonna pass it."

As an NFC personnel evaluator added, "Innately competitive, driven and mentally tougher than just about anybody. You just run into a few issues late in the year: For as much as you run him, you get worn down."
Frankly, this was predictable after Jackson's injury-riddled season in 2021. The Ravens struggled because just about everybody important other than their quarterback got seriously hurt either before or early in the year. Jackson was then tasked with doing everything for his team every week, which he managed to do for a while before getting hurt himself. From there, the wheels fell off. The fact that Baltimore only just missed the playoffs is a testament to how good he can be but the end result was inevitably going to lead to an underrating of Jackson's talents until we see him on the field again.
With better health for himself and his teammates, it's easy to see Jackson reminding everybody that he is, in fact, very good.