Russell Westbrook Somehow Ended Up Confronting a Suns Fan in a Suite During Game 1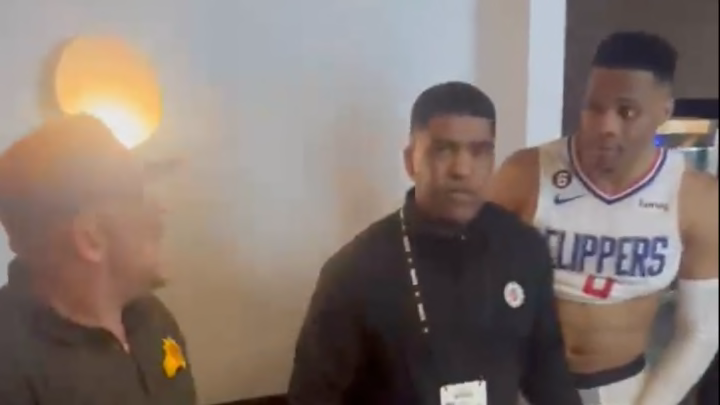 The Los Angeles Clippers beat the Phoenix Suns, 115-110, on Sunday to take a 1-0 lead in their first round series. Russell Westbrook struggled from the field, shooting just 3-of-19, but did everything else, including making an incredible game-clinching play in the final seconds on defense against Devin Booker. He also apparently, somehow, got into a heated confrontation with a fan at some point during the evening. In what looks like a suite at Footprint Center.
In this clip he can be heard repeatedly telling a Suns fan to watch his mouth.
This is definitely a new video as Westbrook has only been a Clipper since February and the only other time LA has visited Phoenix in that time, on the final day of the regular season, Westbrook was wearing white shoes.
This apparently happened during halftime Game 1, when Westbrook, wearing those blue shoes, found himself in a suite for some reason, while children ate plates of buffet food. Based on the look on the face of the stadium personnel keeping things from escalating, this is not usual, so who knows what set this off or when or where this started. Section 101 appears to be located behind the Suns' bench.
Pretty sure the NBA is going to need to review the Suns' security protocols.