Russell Westbrook Already Ignoring Patrick Beverley on the Court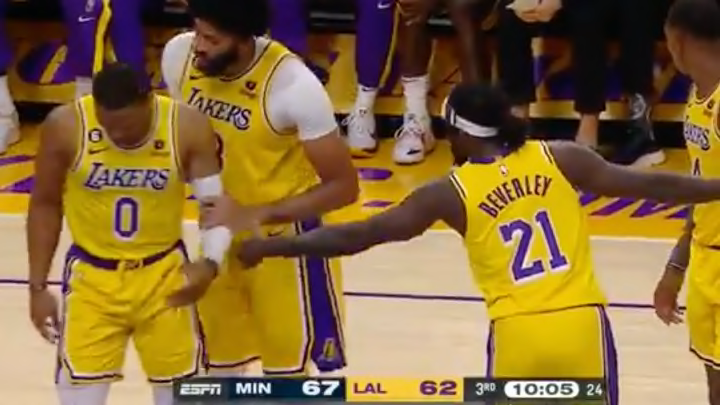 Russell Westbrook and Patrick Beverley /
Many eyebrows were raised when the Los Angeles Lakers traded for Patrick Beverley and some thought the move portended a Russell Westbrook trade. Because, you know, those two do not like each other one bit and haven't for many years. But the Lakers decided to not flip Westbrook and everyone did their part in assuring the public that all was well between the two guards.
Doing so in front of the media is one thing. Doing it on the court when the adrenaline is flowing is another thing entirely. The Lakers took on the Minnesota Timberwolves on Wednesday night in one of their final preseason games and in the third quarter Beverley attempted to gather the starting lineup for a quick chat during free throw attempts. LeBron James and Anthony Davis immediately ducked in to hear what Beverley had to say. But Westbrook proved hard to reach and Beverley had to spend a few seconds waving at him before Davis just grabbed him. Westbrook still would not face the huddle.
Now, look, it's probably nothing. Heat of the moment and all that, Westbrook was undoubtedly deep in his own thoughts en route to a five-point night on 1-of-3 shooting. If we were talking about any other team in the league, this is not even noticed.
But we know Westbrook is disgruntled in L.A. and we know he and Beverley have a history of conflict. We also know the two both enjoy dealing in passive-aggressiveness. It only takes a few moments like this before tempers flare and something happens.
So consider this less of a "we told you this wouldn't work!" post and more of a post to look back on if things get worse as the first sign of brewing conflict we saw in the 2022-23 season.