Russell Westbrook Is Killing the Lakers Defensively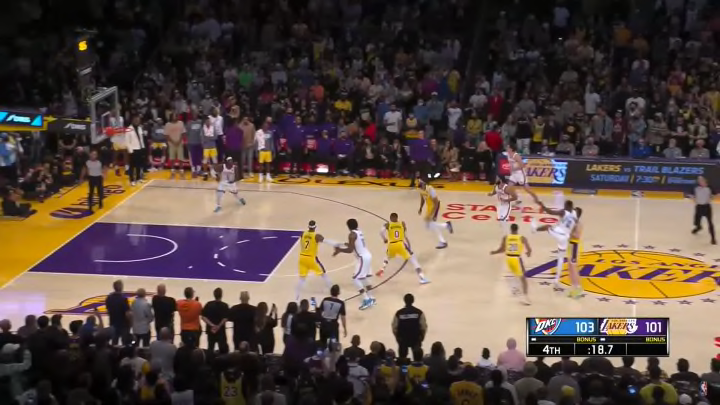 Russell Westbrook loses his man on defense /
The Los Angeles Lakers blew a 19-point first half lead Thursday night in an embarrassing 107-104 loss to the Oklahoma City Thunder. Given a his late blunders, it's fairly easy to put the defeat squarely on Russell Westbrook's shoulders. So far this season, Russ has been putting up decent counting stats but has also been killing the Lakers, especially on defense.
Late in Thursday night's game, Westbrook completely failed his team. The Thunder led 103-101 with 21 seconds left and had a side inbounds in the frontcourt. The ball entered and would up in Shai Gilgeous-Alexander's hands. As he collected it, Westbrook left his man, Luguentz Dort, wide open in an attempt to ... do something? I have no idea. It left Dort standing alone as he executed a backdoor cut and an easy dunk, giving the Thunder 105-101 lead.
Check this out:
What, on earth was Westbrook even thinking? He just wandered off his man when he had no help, and it's not like he could have done anything in that situation anyway. He was just chasing the ball as if he hand no defensive responsibilities. It wasn't even a loose ball, he just wandered into space leaving his guy wide open.
Here's a collection of some of Westbrook's worst defensive plays from the fourth quarter of the game:
On the first play above, Westbrook just stares right at the ball as his man runs backdoor behind him. He doesn't even realize it until the end of the play. He was completely flat-footed and didn't make any effort at all. Not an inch of effort.
On the second play, Westbrook leaves his man wide open in the corner to rotate to the ball when he absolutely didn't need to. Then he didn't even bother to try and recover.
On top of being horrific defensively, Westbrook's PER on the season is 15.64, which is the worst he's put up since his rookie season. He's wildly inefficient despite the numbers he's put up.
As if that's not enough, on the final sequence of the game, the Lakers trailed by three and Westbrook dribbled the ball up and just launched an ugly looking 3-pointer:
Westbrook is currently shooting 21.9 percent from 3-point range on the season yet he somehow thought firing up a 27-foot 3-pointer was the best the Lakers could do on final possession of the game. So he's killing his team on defense and on offense. Great recipe for success.
I sounded the alarm bells the day the Lakers traded for Westbrook. The move made absolutely zero sense given the roster they were building. It also hamstrung the organization from a flexibility standpoint. The marriage has looked awful on the floor together.