Latest Roundup Leads
Roundup: Northwest Heat Wave Reaching Record Temps; Angels Sued By Tyler Skaggs' Family; Jorts Back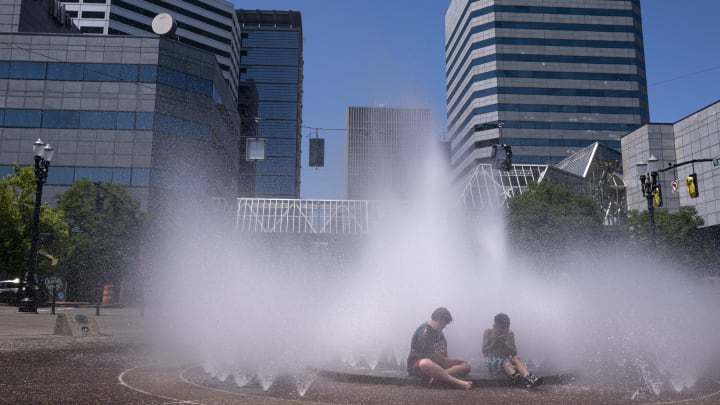 Heat Dome Over Northwest Brings Record Temperatures To Portland / Nathan Howard/Getty Images
Northwest heat wave is "unprecedented", reaching record temps... Tyler Skaggs' family is suing the Angels two years after pitcher's overdose... Jorts are back, apparently... Champlain Tower resident avoids collapse by the slimmest of margins... Trump apparently never used the stairs at the White House... British Embassy in UAE facing backlash after flying Pride Flag... Russian fighters harassed Dutch frigate in Black Sea, defense ministry says... Owner of $1 billion in Bitcoin dies at 41... Longtime Sixers PxP broadcaster Marc Zumoff announces retirement... 'Highly unlikely' breastfeeding Olympians will be able to bring children to Tokyo... Fox News agrees to $1 million fine for violating human rights law... Tommy Tuberville promotes antisemitic conspiracy in interview with anti-immigrant hate group...
Annie Murphy Opens Up About Depression & Her First Role Post-Alexis Rose [Zoe Report]
10 Years Ago Tonight Jon Dore and Rory Scovel Teamed Up for an Unforgettable Conan Stand-up Set [Paste Magazine]
Talking Trash With Quavo and Reforming Probation Laws: Two Days With Sixers Partner Michael Rubin [GQ]
From Kubrick to Spielberg: The Story of 'A.I.' [Ringer]
Common Misconceptions About Vikings [Mental Floss]
Colin Kaepernick, Consequences, and the Culture [Fansided]
God help us all.
This is certainly... something!
Looks solid.
Tyler, The Creator-- "Juggernaut"