Roundup: No Charges in Jacob Blake Shooting; Grammys Postponed; Kanye West, Kim Kardashian Divorce Rumors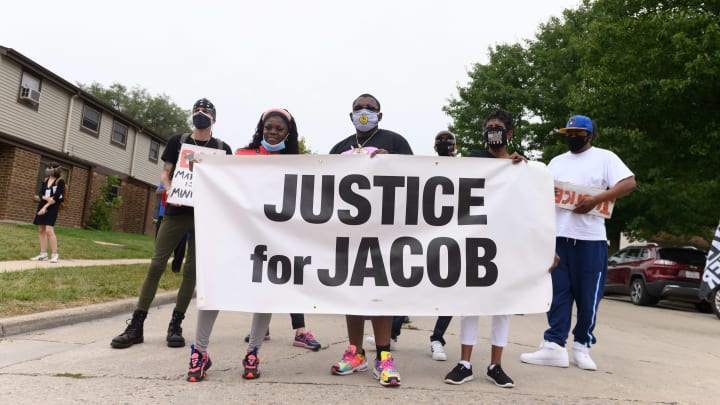 Kenosha officer who shot Jacob Blake will not face charges... Kanye West and Kim Kardashian are rumored to be getting divorced... Author Eric Jerome Dickey dies at 59... Tyler Perry flew to Georgia to vote in Senate runoffs... Tony Romo might try to emulate Kirk Herbstreit's setup for playoff broadcast... Grammys postponed, potential new date in March... Hank Aaron got vaccinated... Shannon Ford spills tea on Jay Cutler/Kristin Cavallari... Tanya Roberts passes away after premature announcement by representative... Red Sox hire Bianca Smith as minor-league coach, will be first black woman to coach professional baseball... Tom Brady and Gisele sell Tribeca apartment for a cool $37 million... Vin Scully's wife passes due to ALS complications... Kelly Loeffler does something terrible again... Stephen A. Smith's new ESPN+ show will include relationship advice... Finalists for Pro Football Hall of Fame class of 2021 announced
What is James Harden Willing to Sacrifice? [SI]
The Implosion of 'American Dirt' [Vulture]
What a Lost Psych-Ward Memoir Teaches Us About Madness [New Yorker]
Which Chaotic DC Actor is Having the Most Fun? A Ranking [Ringer]
When Tamagotchi Ruled the 1990s [Mental Floss]
Nature. Still pretty cool.
This is like the fourth trailer for this show and I still have no idea what it's really gonna be. Can't wait!
Dunno what on Earth they'll do with Spongebob, but better than fixing any of the other tangible issues in the game, amirite?
Oh, Kelly.