Roundup: NFL Cancels Hall of Fame Game; Right-Wing Personalities Leaving Twitter for Parler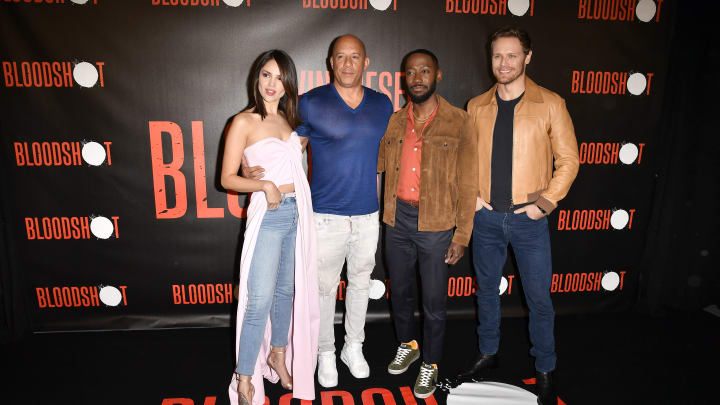 Eiza Gonazlez and the cast of Bloodshot. / Frazer Harrison/Getty Images
Right-wing personalities are leaving Twitter and heading to Parler ... People magazine profiled Andrew Cuomo's home life during the pandemic ... Timothee Chalamet and Eiza Gonzalez are on vacation ... fireworks over Mount Rushmore are "ill-advised" because of dry conditions so guess who wants them ... Boston has banned the use of facial recognition technology ... Whole Foods' bottled water has high levels of arsenic ... Devin Nunes can't sue Twitter over things a fake cow said ... Texas governor says there is a massive coronavirus outbreak after reopening ... dozens of Secret Service agents in quarantine after Trump's Tulsa rally ... so how is Joe Biden's campaign doing ...
The NFL has cancelled the Hall of Fame game and postponned the enshrinement ceremony. [ESPN]
Novak Djokovic's parents blame Gregor Dimitrov for spreading coronavirus and ruining their tournament. [
Vice is launching a weekly talk show with Jemele Hill and Cari Champion. [Variety]
And now people are attacking Bubba Wallace's character. He is understandably upset. [Yahoo!]
The Rangers' new ballpark got roasted. [The Sporting News]
The Washington Pigskins still haven't changed their name, but they are going to remove the name of the guy who named them from their Ring of Fame. [CNN]
Bob Uecker will go to work at Miller Park this season to call games. [MLB]
Vin Disel's Bloodshot hit theaters right as the pandemic hit. Now it's available on digital. Do you know anyone who has seen it?