Ron Kulpa Ejects Both Managers in a Ridiculous Sequence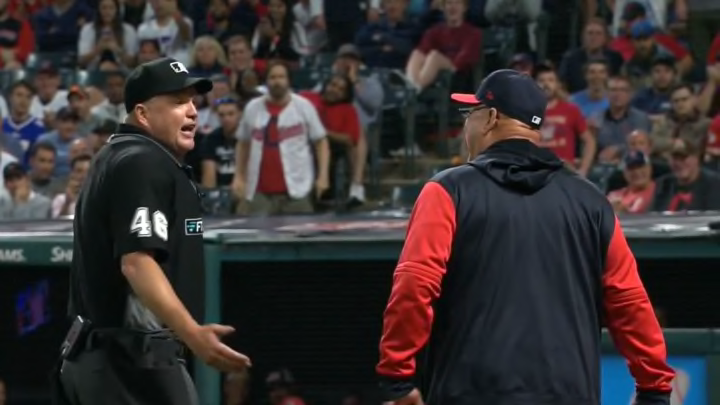 Ron Kulpa is one of MLB's worst managers and he proved it again Monday night. During a matchup between the Cleveland Guardians and Los Angeles Angels, Kulpa took his incompetence and desire and drive to make himself the center of attention. In the span of a few minutes, he ejected both managers and severely angered a relief pitcher to the point he almost got tossed as well. All in a good day's work for Ronny.
The whole thing started in the bottom of the seventh inning with the Guardians at the plate. They took a 5-4 lead and had runners and first and second with no outs when Ryan Tepera relived Aaron Loup. Tepera got two outs, then faced Andres Gimenez. On an 0-1 pitch, Gimenez checked his swing on a slider low and inside. Kulpa appealed to third base umpire Clint Vondrak who ruled Gonzalez had held up. That made the count 1-1. Then all hell broke loose.
Guardians manager Terry Francona emerged from the dugout and wanted Kulpa to check if the ball had actually hit Gimenez's back foot. After a discussion with first base umpire John Tumpane, Kulpa told Francona that it hadn't. They began to exchange words and Francona absolutely lost it. He flipped out and after a long discussion, Kulpa ejected him.
During this few minute discussion, Tepera was standing on the mound getting cold, waiting for play to resume. Once Francona said his piece, Tepera wanted to throw a few warmup pitches. Kulpa said no, and the two began jawing at each other. That led to Angels manager Phil Nevin emerging from the dugout. He got into an argument with Kulpa and wound up getting tossed as well.
Here is the truly staggering video:
This is the kind of stuff MLB has to crack down on. It's just a ridiculous sequence that includes Kulpa inserting himself into the game and taking center stage. It was incredible lame and did't need to happen. There has to be consequences when an umpire turns the game into an "ump show" like this.
After all that, Kulpa let Tepera throw his warmup pitches anyway.
Later on, Kulpa had to leave the game after getting hit by a foul ball:
No on in attendance was sad to see him go.