Robert Kraft's Full-Page Ad for Tom Brady in Tampa Bay Times is All Class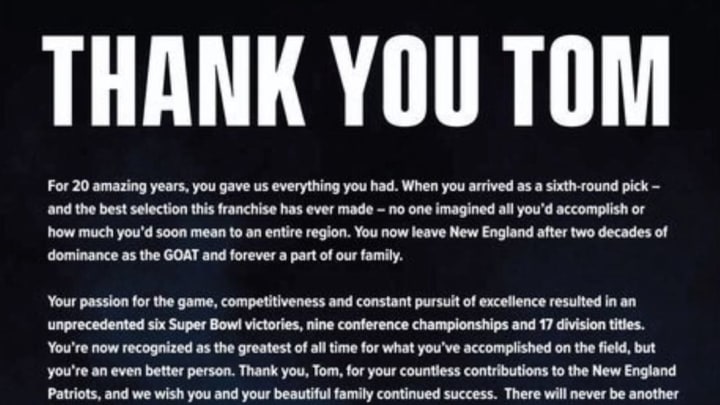 There are few owners in the history of sports who had a closer relationship with a player than Robert Kraft built with Tom Brady over their 20-year partnership in New England. Family parties, summer BBQs, evening galas; these two were family more than co-workers. So, it really should come as no surprise that Kraft went all out to thank Brady for his time as a Patriot, taking out a full-page ad in the Tampa Bay Times and authoring a heartfelt note that's sure to pull on Brady's heartstrings.
Here's what the note said:
"For 20 amazing years, you gave us everything you had. When you arrived as a sixth-round pick — and the best selection this franchise has ever made — no one imagined all you'd accomplish how much you'd mean to an entire region. You now leave New England after two decades of dominance as the GOAT and forever a part of our family. Your passion for the game, competitiveness, and constant pursuit of excellence resulted in an unprecedented six Super Bowl victories, nine conference championships, and 17 division titles. You're now recognized as the greatest of all time for what you've accomplished on the field, but you're an even better person. Thank you, Tom, for your countless contributions to the New England Patriots, and we wish you and your beautiful family continued success. There will never be another Tom Brady. To the Buccaneers fans and Tampa Bay community — take care of him. You got a great one. With much love and appreciation, The Kraft Family and the New England Patriots "
The final part, telling Bucs fans to take care of Brady, is getting the most attention. But the part of Brady being a better person than player will likely mean more to "Tom." That's the mark of good family. It's not what we do in our jobs. It's what we do in our homes that matters most.
Kraft also posted this on a billboard near Foxborough.
The connection these two built, the memories they made, the moments they experienced together, can never be taken away. Six Super Bowls, nine AFC Championships and (seemingly) countless division titles will galvanize people like that. But more than what they experienced as player and owner on the field, it seems their relationship off it was even more meaningful and everlasting. This was a classy way for Kraft to recognize his friend and show him how much he's meant to him through the years.