Ricky Stenhouse Jr. Safely Emerges From Flaming Car During Roval 400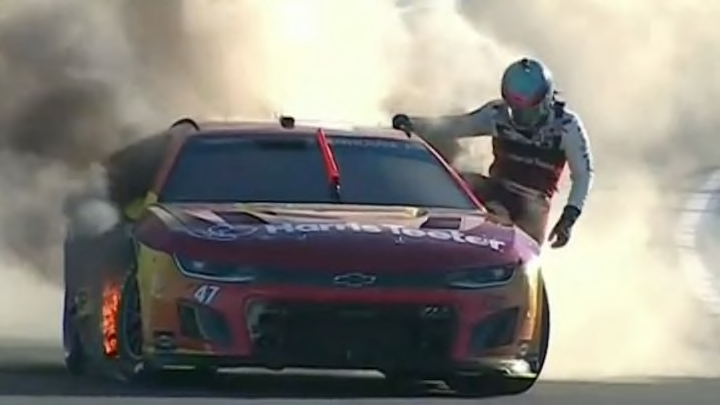 Ricky Stenhouse Jr. did not finish in the Bank of America Roval 400 on Sunday as his car caught fire about 100 laps in. The fire was very visible as it burned near the front right tire as smoke filled and surrounded the #47 Totino's Pizza Rolls-branded car. After a few moments Stenhouse emerged from disabled vehicle and calmly walked away taking great care not to look back in case of explosion.
You'll notice that just as he gets out of the car the fire appears inside the car, which would have been a pretty serious issue if he had still been inside. What an absolutely wild sport.
Since Stenhouse was alright, it was OK to joke about the Pizza Rolls. You won't be the only one.
Stenhouse came into the race ranked 14th in the 2023 NASCAR Cup Series with one win and nine top-10 finishes on the season. So yeah, he's a pretty good driver, but he's still going to need a lift home tonight. The Totino's car is going to have to go to a garage for at least a few days to get out all the smoke smell.