Latest NBA Leads
Richard Jefferson Wonders if Giannis Antetokounmpo Makes His Teammates Better Even at His Best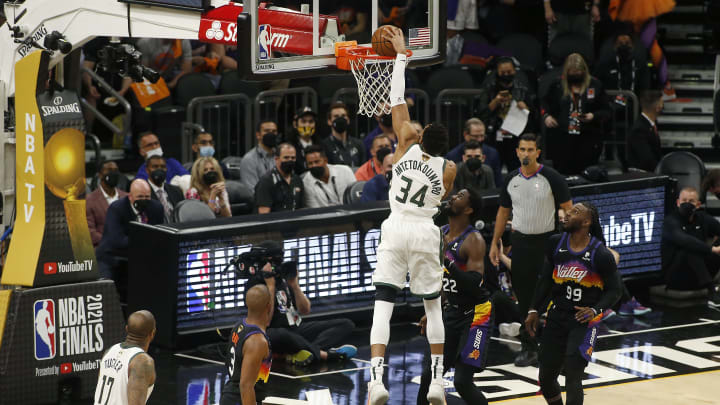 2021 NBA Finals - Game Two / Ralph Freso/Getty Images
The Milwaukee Bucks have found themselves in a 2-0 hole in their first NBA Finals appearance since the Oscar Robertson days. The Phoenix Suns have been utterly dominant and earned the first two victories of the series. Sunday will be the make-or-break game for the Bucks, a Game 3 in Milwaukee that will determine the rest of the Finals.
Blame for the current deficit they face can be shared by several members of the Bucks. One player who is not among those names is Giannis Antetokounmpo. He took only seven days to recover from a frightening hyperextended knee to return for Game 1 and played as well as could reasonably be expected before exploding in Game 2 for 42 points and 12 rebounds. It wasn't enough, though, as Giannis' running mates failed to give him any support offensively and his outstanding production was wasted.
This led Richard Jefferson to wonder aloud on The Jump about just how good Giannis makes his teammates when he's cooking like he was in Game 2. He came to the conclusion that Giannis may be the best player in this series, but can't elevate everyone's play in the same way that Chris Paul can.
This is a little bit of apples-to-oranges talk, in my opinion. CP3 is one of the greatest point guards of all time and naturally would affect the game more when he's cooking because every single offensive set runs through him at all times in those stretches. The Bucks' offense runs through Giannis in a similar manner but he isn't a point guard, even if he can pass.
The overarching conclusion about Giannis' ability to make his teammates better is a bit overblown right now because he set up his teammates to hit shots on Thursday night. They just didn't hit those shots. Khris Middleton and Jrue Holiday combined for all of 28 points on 12-of-37 shooting. They didn't miss more than 60 percent of their shots because they weren't getting set up by Giannis. They just missed the damn shots. It isn't a referendum on the impact of the two-time MVP.
Giannis has a nearly-unparalleled amount of gravity on the offensive end when he really has it going. There are very few players that force an entire defense to bend around them like Giannis does. That creates open shots, even if it's not in the same way Paul creates open shots when he's in the zone. These discussions will disappear if Middleton and Holiday shoot even 40 percent combined from the field in Game 3, should Giannis continue to dominate.