Rex Ryan Blows Up on Dolphins Over Tua Tagovailoa Situation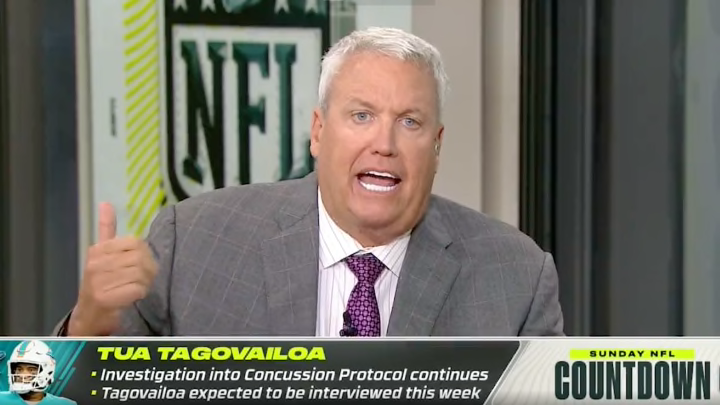 Rex Ryan /
The Tua Tagovailoa situation is the biggest storyline in the NFL right now. Tagovailoa suffered a very scary head injury against the Cincinnati Bengals on Thursday and ended up in the hospital, only five days after he appeared to suffer a similar injury against the Buffalo Bills. It forced everybody watching to question why Tagovailoa was in the game to start with, leading to the Miami Dolphins firing the unaffiliated neurotrauma consultant who cleared Tagovailoa in tandem with the team's doctors this week.
It is a very unfortunate set of circumstances with no real right answer because it's just the nature of football. It's a very violent game and sometimes guys are going to get hurt very badly in ways that horrify viewers at home. It's what we sign up for when we turn on the television, even if we do not like being reminded of that fact. But that does not mean there is no blame to go around here. Something was screwed up with the Dolphins' process in approving Tagovailoa to play, and Rex Ryan let them know what he really thought during Sunday NFL Countdown today.
It's easy to sit behind a desk and criticize the decisions of others but Ryan's emotion is real here. He's upset that the Dolphins would put Tagovailoa in that spot as a former coach who would have to make the kind of call Mike McDaniel did on Thursday. He knows what it's like. And clearly he thinks Tagovailoa was failed by the people he's supposed to be able to count on.
Smart money says we'll be seeing similar opinions in the upcoming week as the news hits its stride in the content cycle.