Latest NFL Leads
Rex Ryan Blasts Jets WR Elijah Moore on 'Sunday NFL Countdown'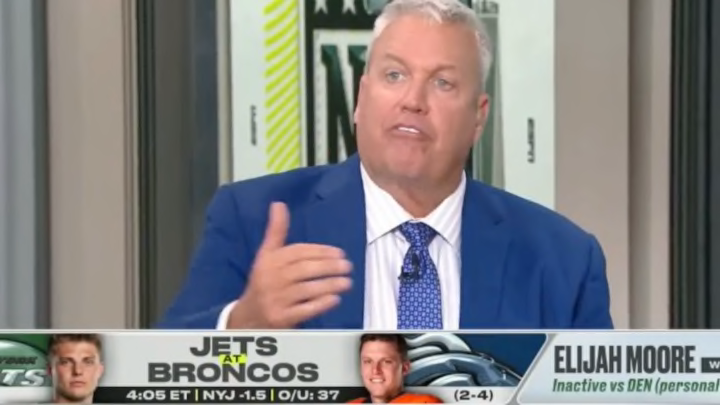 Rex Ryan /
Everything has come up green for the New York Jets this season as the team has notched several impressive wins and sit two games above .500 despite Zach Wilson's early-season absence. With one notable exception: Elijah Moore. Hopes were extremely high for the second-year wideout and he was a popular sleeper pick to blow up this season with a year in Robert Saleh's offense under his belt.
That has not happened. Moore didn't get a target in the Jets' huge win over the Green Bay Packers at Lambeau Field last week and started to angrily tweet about it. He missed practice, angry-tweeted some more, and ultimately requested a trade. Which the Jets denied.
Things have gotten bad enough that Moore didn't even travel with the team to Denver to play the Broncos on Sunday. The Sunday NFL Countdown crew discussed the matter on ESPN on Sunday morning and Rex Ryan, noted media fan of the Jets given his lifelong connections with the franchise, sounded disgusted with Moore's attitude. He spent a minute or so hammering the young wideout, saying he needs to grow up. And also that he couldn't hold Randy Moss' jock.
It's a pretty weird situation because it's not like Moore got benched. He played over half the offensive snaps for that Green Bay game. Sure, that's a decrease from early in the year when he was playing more than three-quarters of the snaps but New York isn't exactly overflowing with weapons on offense so there's no chance he gets fully phased out unless he forces the team to do it. Which it kind of seems like he is.
New York is better off trying to deal with this than trade him. It does figure that the team's first good season in lord knows how long is being marred by a confusing conflict between player and franchise, though.