Reporter Is Overwhelmingly Nice to Russell Westbrook in Press Conference, Makes Everyone's Day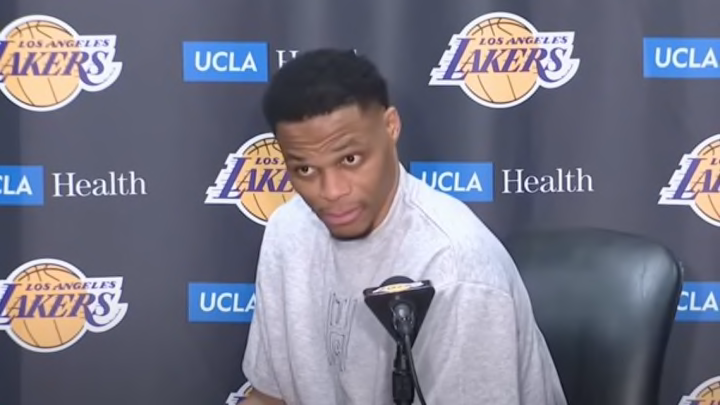 The Los Angeles Clippers beat the Los Angeles Lakers in Los Angeles on Tuesday night, 133-115. Russell Westbrook came off the bench to score 17 points on 3-of-14 shooting, but did pass the 24,000 career point milestone in the process. While most media members wanted to talk about the Lakers' latest loss during Westbrook's postgame press conference, one tried a different approach, congratulating him on his 24,000th point and complimenting him on his sweet moves.
"Tonight you used impressive dribbling skills to successfully fake out your opponents multiple times and in the second quarter you made a jumpshot where your body was turned like 180 degrees away from the basket. It was just an amazing shot. You're always making these spectacular moves within just split second. Do you anticipate doing them or is it just a second nature to you. Do you just not even have to think about it?"
Westbrook, having been combative with another reporter just moments earlier, was completely disarmed by this line of questioning and could not hide his smile. You probably couldn't replicate this type of interaction on a day-to-day basis, but it was certainly a nice change and a reminder that Westbrook is not the guy you see scowling on the court.
P.S. If you know who this media member is, let us know.