Remember When Live-Action Beavis and Butt-Head Showed Up on 'Step By Step' in 1994?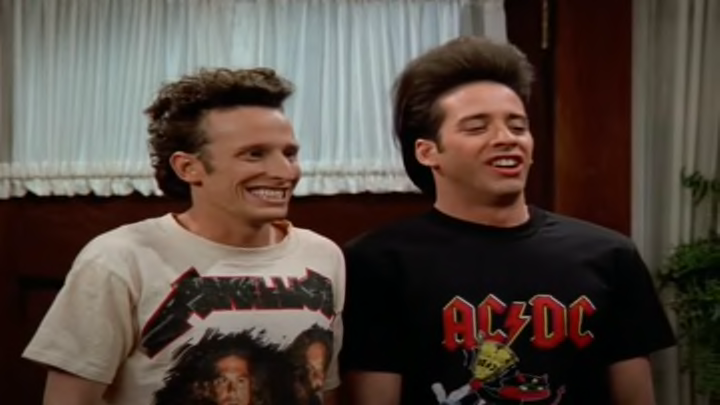 Beavis and Butt-Head are back. Mike Judge's generation-defining characters first returned in a new movie for Paramount+ in June called Beavis and Butt-Head Do the Universe. This week the eponymous MTV show returned with new episodes for the first time since the last reboot in 2011. Critical and fan response for both have been very positive. Thus, it appears we are in a full on Beavis and Butt-Head renaissance. And so the next obvious move is a Step by Step reunion featuring the live-action versions of Beavis and Butt-Head, "Larry" and "Gary."
For those of you who don't remember, Step By Step, starring Suzanne Somers and Patrick Duffy, was part of ABC's TGIF lineup from 1991 to 1997. During the penultimate episode of season three, two guys who looked and sounded a lot like the popular MTV characters showed up to take Dana and Karen on a blind date.
They would return twice in season four during the show's Halloween and Christmas episodes. I couldn't find an embeddable version of the Halloween clip, but you can watch it on YouTube if you want to see Patrick Duffy say "butt-scratch."
Reddit user calmingmanatee did a hell of a job explaining what Beavis and Butt-Head were doing on TGIF in a post from 2019:
In order to appeal to the MTV audience, the ABC sitcom Step by Step cast two actors as Beavis and Butthead on the show. They made three appearances total. After the first appearance they recast the actor who played Butthead. Beavis was played by Bodhi Elfman (Jenna's husband) and Butthead was played by Rob Moore in the first appearance. Afterwards he was replaced by Jason Behr. They were officially credited as "Garry" and "Larry" presumably to avoid legal action.
Bodhi Elfman and Jason Behr are both still working. Maybe the most unbelievable part of all this is that Jenna Elfman married Bodhi Elfman in 1995 - after he appeared as live-action Butt-Head. The couple is still together and has had a podcast since 2012. How else did you think this story would end?