There's Something Hilarious About a Referee Getting Hit in the Face With a Football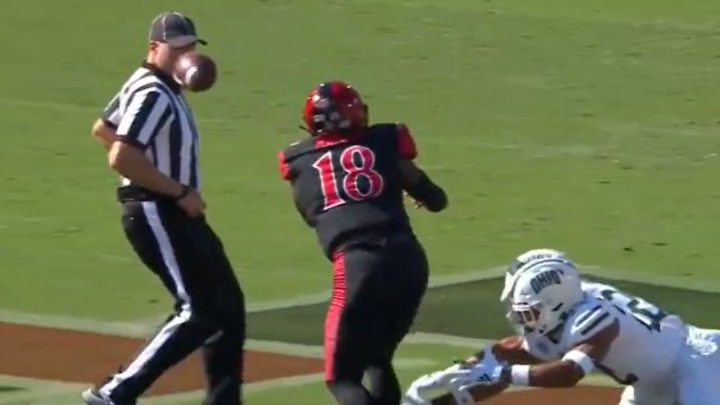 The San Diego State Aztecs beat the Ohio Bobcats on Saturday, 20-13. Aztecs senior quarterback Jalen Mayden completed 17 of 27 passes for 164 yards and threw two touchdown passes in the Week Zero victory. He also hit an official in the face with a tight spiral from just a few yards away.
Mayden was being purused by two Ohio players in the backfield and tried to throw the ball to a teammate, but the official got in the way and paid the ultimate price: hit in the face with a football on a FOX channel. It's not exactly a Hans Moleman production, but it's still pretty great.
While Mayden wasn't trying to hit the official, he was able to avoid the sack by doing so, which means it all worked out for him. Either way, this should serve as a reminder to always keep your head on a swivel. Always be prepared. All that stuff. Whatever it takes to avoid getting hit in the face with a football like you're Marcia Brady.
Can you think of any other pop culture references for someone getting hit with a football? We have already covered the Geller Cup quite a bit. I'm pretty sure The Simpsons is the gold standard here, but if you can think of anything else, please let us know.