Reds President Tells Fans They Have No Other Options, So They Might as Well Cheer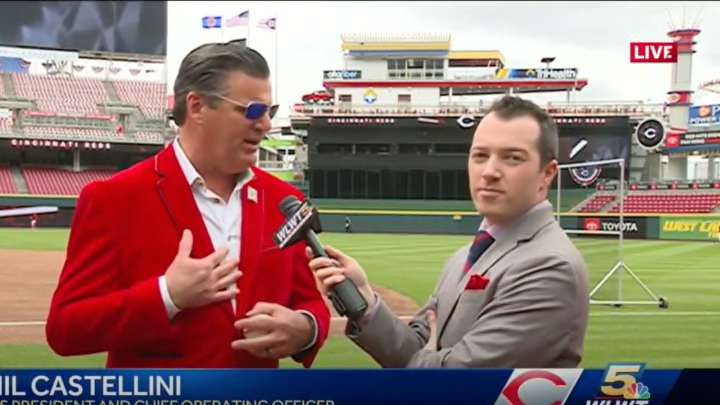 Cincinnati Reds president and COO Phil Castellini /
The Cincinnati Reds angered their fans this offseason by selling off most of their best players. The bubbling hostility towards management in Cincy is palpable. Luckily, Reds president and COO Phil Castellini is here to calm the wa--he said what? Publicly? Holy sh*t.
Before the Reds' home opener on Tuesday, Castellini was interviewed on the Eddie & Rocky show on 700 WLW and basically dared fans to stop supporting the team. He essentially said fans have no other options but to continue to support the Reds, and if they don't, the team would move.
Just listen to this insanity:
Later in the day, Castellini was given the chance to clarify, walk-back or otherwise disavow the comments he made on radio, instead he decided to double down:
It's fairly clear Castellini never took a PR class in college. Good lord.
"Are you going to abandon being a Reds fan? Are you going to abandon following this team?"

Yeah, Phil, that's the general idea. If you don't give fans a product worth showing up to see, why would they? They're not spending their hard-earned money because the grass is pretty. They want to see their teams win. Threatening to move if they don't support your awful product isn't going to have the effect you're hoping it will.
The MLB league office is probably on the phone to the Reds as I type this. I wouldn't be shocked if Castellini is reading a prepared statement apologizing in about 14 hours while Nick Castellanos launches a home run somewhere.