Very Loud Joey Votto F-Bomb Caught on Hot Mic During Reds-Giants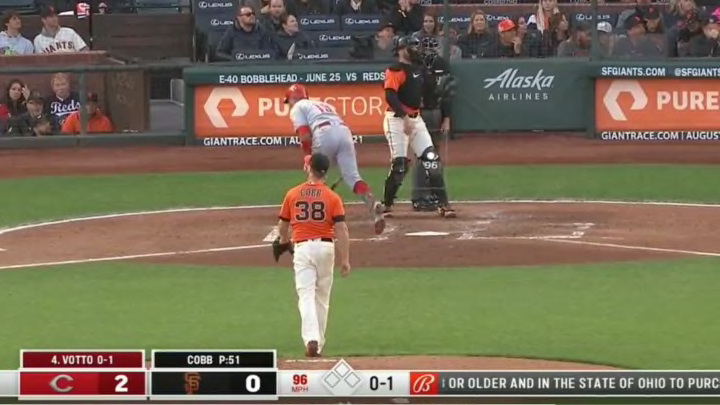 Joey Votto, unhappy /
Last night, the Cincinnati Reds visited San Francisco to take on the Giants. The Reds were up 2-0 in the top of the fourth thanks to a pair of doubles by Mike Moustakas and Nick Senzel in the second inning. Joey Votto was at the plate and, after a foul ball, unleashed an f-bomb so loud it got caught on the hot mic.
Hilariously, it also came directly after a fan managed to make their voice heard on the broadcast by screaming "Jesus loves you" in the middle of right-hander Alex Cobb's delivery.
It is unclear why Votto was so mad, honestly. It was a pretty good pitch to hit but it wasn't exactly a softball down the middle. A 96 mph heater up in the zone isn't an easy pitch to swing at, even if you're Joey Votto. He ended up earning a single later in the at-bat.
Quite a juxtaposition on the broadcast audio, though.