Reddit Makes WallStreetBets Private, Discord Bans Server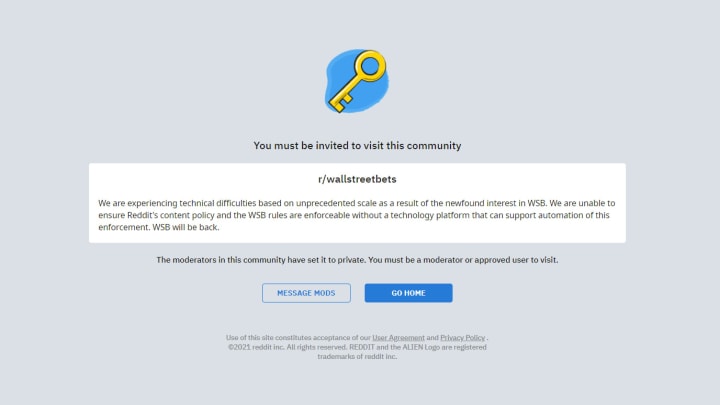 Reddit takes down r/WallStreetBets /
The WallStreetBets subreddit has been a massive story this week due to the incredible GameStop stock rally. While new people are discovering the page on Reddit, there has been a ton of controversy over its content. On Wednesday, the subreddit was made private and Reddit posted a message on the site.
Here's the message Reddit put up, which you can see if you go to the r/WallStreetBets page:
"We are experiencing technical difficulties based on unprecedented scale as a result of the newfound interest in WSB. We are unable to ensure Reddit's content policy and the WSB rules are enforceable without a technology platform that can support automation of this enforcement. WSB will be back."
Content and moderation has been a huge issue for the page. Earlier in Wednesday, Discord banned the r/WallStreetBets server, not because of financial fraud, but because of "hateful and discriminatory content." Discord gave repeated warnings that went unheard. Apparently users of the channel were getting spammed with hateful language and racial slurs.
As for the subreddit, it appears a lot of former users were locked out when it went private, even those already subscribed:
We'll see what happens with this. There are legitimate legal concerns about the stock manipulation going on with GameStop. Reddit could be in a position where keeping WallStreetBets alive puts the company in legal jeopardy.
UPDATE: The subreddit is back and public again.