Red Sox, NESN Embarrassed Themselves by Not Including Don Orsillo in Jerry Remy Tribute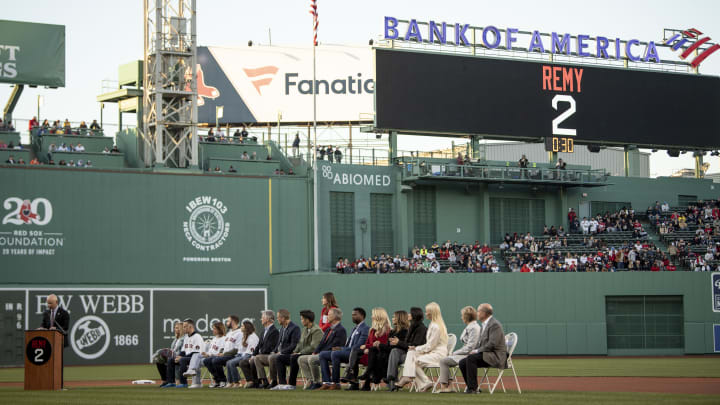 Jerry Remy Tribute / Maddie Malhotra/Boston Red Sox/GettyImages
Last night, the Boston Red Sox paid homage to Jerry Remy, a player and broadcaster for the team over the course of four decades who recently succumbed to cancer. Rem-dawg, as he was known by the Boston faithful, was a beloved figure in the Red Sox community.
Fans will always grow attached to former players who go to the booth after their playing days and stick around for as long as Remy did, but he struck a particular chord in this fanbase. He was a scrappy guy during his playing days who fought through injuries for nearly his entire Red Sox career and still produced at a decent clip. He made a quick transition to the broadcast booth, where he then presided over the greatest run of success in franchise history that included the team's first title in 84 years. Remy called four World Series seasons, and publicly fought cancer for much of that stretch. He became an icon in a city that loves a fighter and an underdog.
So, last night, the franchise held a ceremony before the first pitch in his honor. Those who knew and loved him spoke, and video tributes for those who could not attend played on the big board. There was, however, one figure notably absent from all proceedings-- Don Orsillo, Remy's play-by-play partner on NESN for over a decade. It turns out Orsillo was asked to attend, but couldn't because he had to call Reds-Padres on the other side of the country that same day. So the team asked Orsillo to record a video, which he did, and then told him it wasn't needed. All of this is according to the man himself.
This naturally launched an outpouring of rage from Red Sox fans. For them, it's impossible to have a proper tribute to Remy without Orsillo. Chad Finn of the Boston Globe dug into the situation and explained that Orsillo sent his video in the night before the ceremony, leading to somebody telling him that it wasn't needed. Reading between the lines, Orsillo didn't get it to the video team in time and they didn't want to change things up the night before the event.
It was not a malicious act, although many will remain convinced it was after the way Orsillo's dismissal from NESN was handled a few years ago. It was, as many things are, a simple mistake. Somebody in the chain decided it wasn't worth editing Orsillo into the video given the time constraints at hand and badly misread the outcry that would follow. Matters were not helped by the team and network both declining to respond to inquiries on the situation from Chris Cotillo of MassLive.
But it's still a mistake, and mistakes are embarrassing. There's only one chance to honor a man who gave his life to the team. Neglecting to include Orsillo because he missed a deadline is fair by the letter of the law, but not the spirit. It was a heartfelt tribute to a local legend and a dear friend. There was nothing to gain and everything to lose by refusing to alter plans in place to include Orsillo's message.
There doesn't have to be ill will behind a mistake for it to reflect very poorly upon those involved. That's what happened here. Sure, Orsillo should've made sure he got the video there in time. But Remy would've wanted Orsillo to be a part of the ceremony. Remy's family almost certainly wanted Orsillo to be part of the ceremony. The legions of fans who supported both men for 14 years wanted Orsillo to be part of the ceremony.
That should have been all that mattered.