Female Oklahoma Fan Throws Around Texas Fan Before Police Step In at Red River Rivalry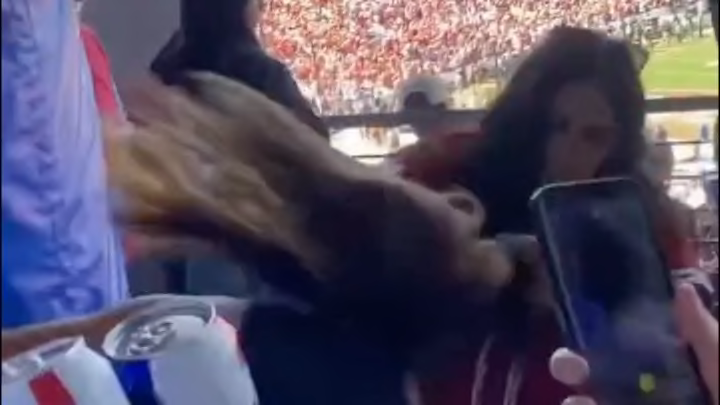 The Oklahoma Sooners beat the Texas Longhorns, 34-30, in the 2023 edition of the Red River Rivalry. Two Texas running backs ran for over a hundred yards a piece and Quinn Ewers completed 31 of 37 passes for 346 yards but he also threw two interceptions on the first two Longhorns drives of the game. On the field Texas was unable to overcome a 3-0 turnover margin. Meanwhile, in the stands...
That is the very end of a confrontation between two fans. Based on the white skirt and matching cowboy boots, that appears to be a female Texas fan getting thrown around by a female Sooners fan. The Sooners fan threw a punch and then immediately grabbed her opponents hair and sent her flying. There was some more shoving, but then the police showed up and ended the fight.
Who knows what started this, but with a heated rivalry like this it never takes much. You get one person rooting for the team at the wrong time and there's always potential for fireworks. And that's why these rivalries are so important to the fabric of college football. Random fan fights in the stands shows you how much more important it is to these college kids. They just care more. Conference realignment threatens to take that away.