Umpires Made Rays Pitcher Zach Elfin Take Off His Rubber Wedding Ring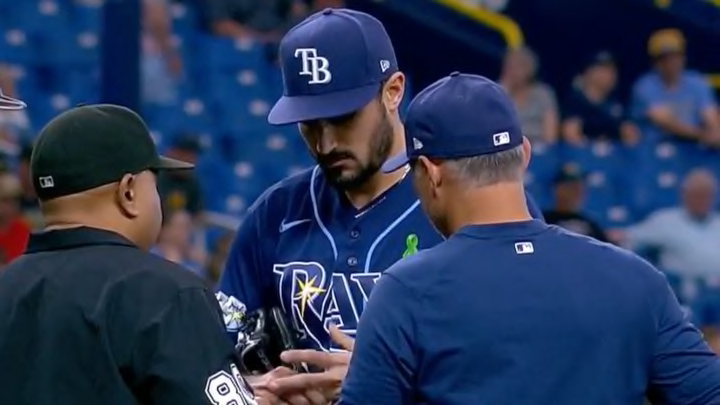 The Tampa Bay Rays won yet again last night to move to 26-6 and continue to conjure up memories of the 1984 Detroit Tigers. There is seemingly nothing that can slow them down, except eagle-eyed umpires who want to make sure everyone is complying with the letter of the law. After spotting a wedding ring on starting pitcher Zach Eflin's finger, they made sure to address the situation, offering a simple choice: take it off or get bounced from the game.
In his postgame interview, Eflin said this particular crew seemed "on edge." Which makes sense due to the constant beating they take in the pages of The Big Lead and other sports blogs desperate for those furious clicks.
Does it make sense to force a pitcher to take off a rubber ring on his glove hand, one that seems incapable of scuffing up a ball? Not really. But umpires know that their ass will be in the jackpot if they don't adhere to new guidance from Major League Baseball aimed at cracking down on illegal substances.
The enhanced examinations, approved by the league's on-field committee, will entail more detailed inspections by umpires and inspections that occur more often than they have over the past 21 months.
"Umpires have been instructed to increase the frequency and scope of foreign substance checks this year, including randomized checks of fingers (including removal of rings worn on either hand of pitchers), hands, hats, gloves, belts/waistlines, and pants," the memo states. "Pitchers may be subject to checks before or after innings in which they pitch, and managers may make inspection requests of a pitcher or position player either before or after an at-bat."
The good news here is the Rays might win 120 games this season and a person remains married even if their ring is in a pants pocket.