Maybe Mascots Scrimmaging Youth Football Players For Halftime Entertainment is a Bad Idea?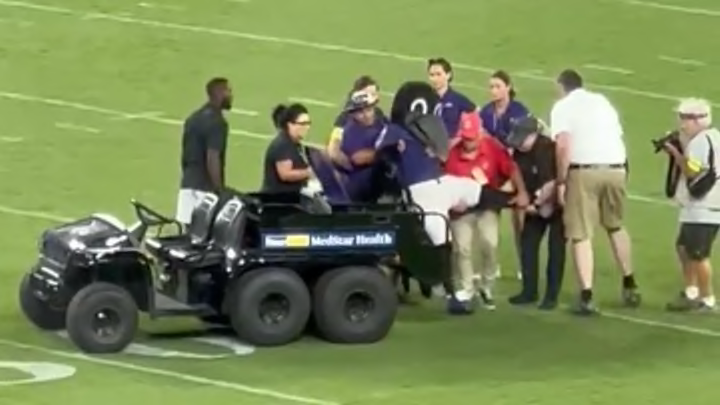 Football is back. College football games kicked off week zero on Saturday and the NFL preseason ends today. With the return of football comes the return of halftime, which requires entertainment. On Saturday we saw at least two scrimmages between youth football players and mascots. We know about those two because they both provided cringe-worthy highlights.
First, during the Atlanta Falcons - Jacksonville Jaguars preseason game the Atlanta Braves mascot Blooper destroyed a bunch of kids on a long run.
It's a funny visual, but it's also an adult hitting three kids in the head with impunity so who's to say if it's good or not? So the only question we can really ask is whether this is the best-case scenario? An adult asserting his dominance over a bunch of children while dressed like a furry mutant snork? It seems so. And if that's the best case, here's the worst.
That's the Baltimore Ravens mascot Poe going down with a knee injury after he was tackled by a youth football player at halftime of the Ravens - Commanders game. He was taken off the field on a cart. While still wearing his giant bird head.
Again, very funny visual. But that's also a real person inside that costume who is about to face months worth of medical bills and rehab.
I'd say we might want to put a stop to this practice, but what's the point? People know the risks when they let their children play tackle football. The game is so dangerous that the good players mostly avoid practicing it for fear of injuries. And I'm sure anyone out there in a mascot costume signed a waiver knowing that blowing out a knee is much less likely than experiencing the glory of running over a little kid.
So schedule some more of these. This is America after all. Let freedom ring, just like those little kids' bells.