Ronnie Stanley Destroys Both Kerby Joseph And a Cameraman on Lamar Jackson TD Run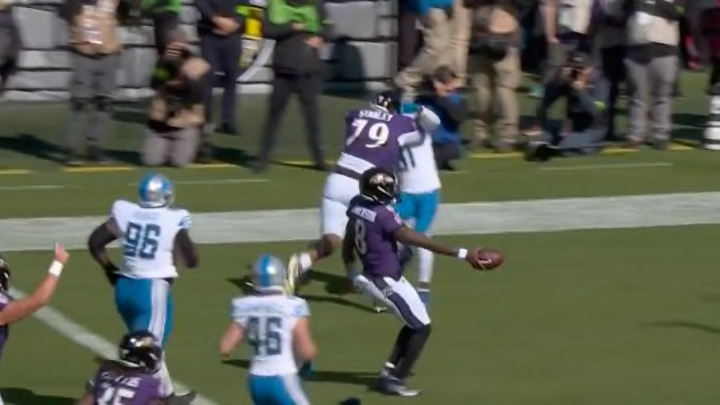 Ronnie Stanley /
The Baltimore Ravens got off to a hot start at home against the Detroit Lions on Sunday. Lamar Jackson marched the offense down the field on the opening possession of the game, highlighted by a long pass to standout rookie Zay Flowers. The Ravens faced a fourth down in the red zone and decided to go for it, calling for a designed Jackson run. The QB scored with ease thanks to the fierce blocking of left tackle Ronnie Stanley.
In the highlight below you'll spy Stanley taking on Lions safety Kerby Joseph and blocking him into the shadow realm. Textbook stuff. Reminiscint of Rob Gronkowski blocking Sergio Brown a while back and saying he was kicking him out of the club.
However, the broadcast view showed Stanley actually had two victims-- Joseph and an innocent cameraman hanging out in the end zone who got nailed by Stanley flying through the air after blocking Joseph.
Offensive line coaches all over the country are scrambling to clip this for film study tomorrow.
I think everybody is going to feel that one in the morning. Tremendous finish by Stanley.