Ravens, Browns Scuffle After Lamar Jackson Gets Destroyed on Late Hit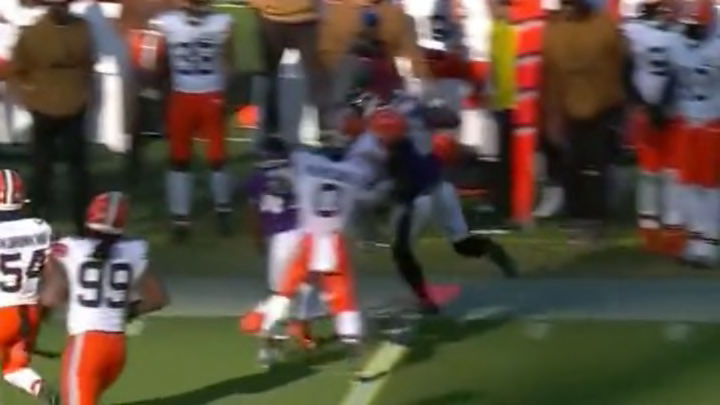 Lamar Jackson hit /
The Baltimore Ravens faced off with the Cleveland Browns in a classic AFC North rivalry tilt on Sunday and things got heated. As they often do.
The first half was coming to a close and the Ravens had the ball while holding an eight-point lead, up 17-9 with less than a minute to go. Lamar Jackson took off towards the sideline in an effort to gain a few yards and hopefully set up Justin Tucker for a long field goal try. Right as he stepped out of bounds he got absolutely smoked by a Browns defensive back and went flying.
There was no flag on the play but Jackson's teammates immediately accosted the Cleveland sideline in support of their QB. A shoving match ensued and escalated to a scuffle after someone hit the deck.
It seems pretty close in real time but the slow-motion replay provided this still that proved Jackson was very much out of bounds when he got hit and there should have been a flag.
Those hits are part of the deal when you have a scrambling QB like Jackson but it's still shocking there wasn't a flag. Referees, by and large, err aggressively on the side of caution whenever a QB gets hit regardless of whether or not they're in the pocket. You'd figure seeing Jackson get upended would cause that involuntary physical reaction.
Guess not. Things getting chippy between the Browns and Ravens again.