Raptors and Celtics Combine for Six Empty Possessions in Extremely Ragged 40-Second Stretch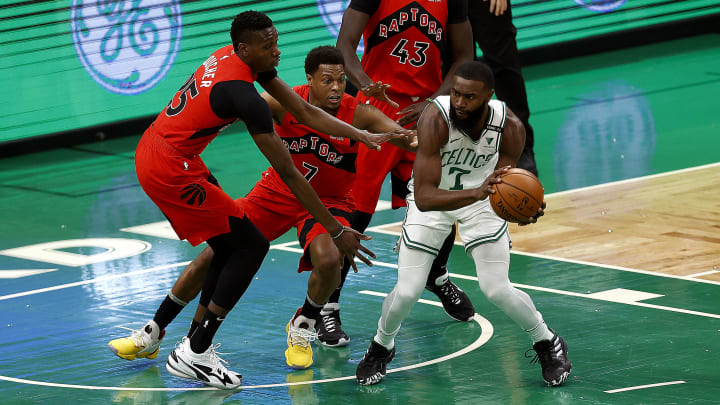 Maddie Meyer/Getty Images
The NBA has never been as packed to the gills with incredibly athletic scoring options. Since they introduced the camera shots of players entering the arena, it's become a challenge to identify if the finely-dressed shape sauntering in is a human being or a walking bucket. But you wouldn't know that from this 40-second stretch from last night's Boston Celtics-Toronto Raptors game, which was ugly and unproductive in the scoring department.
Jayson Tatum kicking things off by turning the ball over mere feet from the hoop. Then Norman Powell went the length of the court only to miss rim with a banked layup attempt. Tatum clanged a triple try off the back rim, setting the stage for Powell to miss a floater in the lane.
Marcus Smart and Pascal Siakam, obviously feeling left out, proceeded to miss point-blank shots of their own to make things even more absurdist before Celtics coach Brad Stevens mercifully called timeout to change the entire vibe.
We'll never know how much longer the drought could have continued. I think a few more empty possessions at the same pace would have been enough to force a mutual abandonment of the game.
The whole ordeal brought back some brutal personal memories of seventh-grade basketball and piling into a small visiting locker room down 6-5 at the half. There was this vacant, glassy look in our shop teacher/coach's eyes that we hadn't seen before. And the longer he went without saying anytfing, the more terrifying it became. You could literally see him taking stock of all the choices in live he'd made that led him to this point.
So maybe what happened last night wasn't all that funny after all.