Rangers Fan Sucker Punches Devils Employee While Leaving Game 7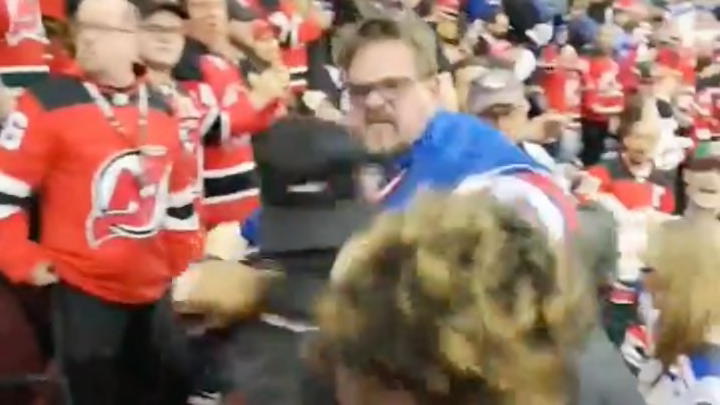 Rangers-Devils fight /
On Monday night, the New York Rangers lost to the New Jersey Devils in Game 7 of their first-round series in the NHL playoffs. The Devils won 4-0 and were up big late in the third period on their home ice, so Rangers fans began to trickle out to beat the traffic. One New York fan, though, took his exit as an opportunity to punch a member of the Devils' "Woo Crew" and sparked a brawl featuring himself and numerous Devils fans.
It is almost incomprehensible that anybody would get so upset about their team losing that they'd punch an opposing team's employee. Especially a member of the hype squad who is literally paid to be as loud a fan as possible. But Game 7 losses change a man. Apparently.
The Devils' employee, Semaj McLeod, is 20 years-old and spoke to the Daily News about the incident. He suffered swelling in his face and the team is working on finding the culprit.
McLeod, who has been a Devils fan his whole life, said working with the Woo Crew is a "dream job." He joined the in-game hype squad in 2021.

"This is supposed to be a super happy, exciting moment for me," he said. "I was looking forward to it being one of the most exciting nights of my life, you know what I mean?

"When you're employed by a team like this, there are the moments that you live and work for. And I feel like that was pretty much snatched away from me, that enjoyment factor."
McLeod tweeted out another video of the event from his personal account.
All in all, pretty upsetting! This older man just took a cheap shot at a kid who works for the team because he got pissy the Rangers lost. What a loser. Hopefully he is found and faces justice as soon as possible.