Rams Got an Absolute Gift of a Fumble From the Packers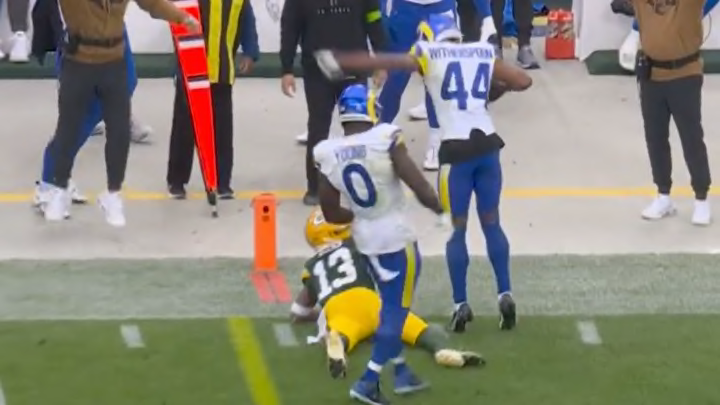 The Los Angeles Rams are in Green Bay to play the Packers and neither team is putting on an offensive clinic. They went into halftime with the home team leading 7-3 and with confidence another few scores would likely be enough to beat the mighty Brett Rypien. But their opening third-quarter drive came to an abrupt end when Datayvian Wicks fumbled the ball away in bizarre fashion.
Wicks stumbled of his own volition and bobbled his hands around in the exact way necessary to bop the ball right into the waiting hands of Ahkello Witherspoon. Everyone involved in this could have all day to replicate the sequence again but could never make it look real.
All things considered it was actually an impressive play by Witherspoon. It must take an eternal optimist to ever anticipate someone magically fumbling the ball right into your breadbasket but every know and again, dreamers get rewarded.
The Rams, as is becoming a pattern, were unable to convert any points off the turnover.