Raiders' New Stadium in Las Vegas Will Be a Broadcasting Dream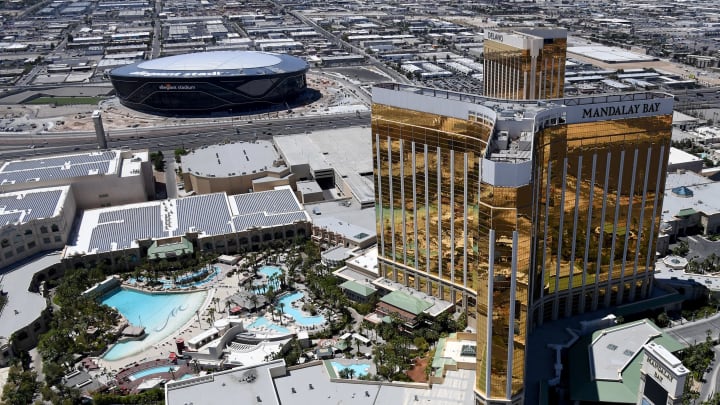 Allegiant Stadium in Las Vegas. / Ethan Miller/Getty Images
Aerial shots, flybys, panoramics, time lapses, and skyline shots of the cities where NFL teams play are a major part of every broadcast. Whether it's the Empire State Building for the Jets and Giants, Alcatraz Island for the 49ers, or the Rocky Statue for the Eagles, we've all seen the top attractions that team's city has to offer before, during and after the games are played.
With all due respect to those and the other sights shown, none of them hold a candle to the images we'll get from Allegiant Stadium in Las Vegas.
Allow the Raiders to set the stage with this hype video. Ignore all the propaganda about the Raiders' past greatness at the start of this video. Just focus on the aerial images of the stadium at night with the casinos on the strip and the desert behind that as its backdrop. It's glorious.
This image really stood out to me.
When it comes to capturing the attention of your audience, nothing will be better than Vegas. The lights, the skyline, the sunsets, the mountains, the desert, the fountains, the people, there's just so much to cover and all of it is a magnet for the eyes. And I didn't even mention the stadium yet.
Look at how the sleek lines of Allegiant's lights are accented by the gold on the Mandalay Bay casino (they're going to make out like bandits with all the free advertising they're gonna get) on the right. It looks like a futuristic space ship even George Lucas would be proud of. But the architects were also smart not to overdo it. Just let the bright lights of the Las Vegas Strip do the work for you. Probably save some money on the electric bill too.
Most NFL stadiums aren't this close to the cities they call home. Hell, the Jets and Giants don't even play in New York and San Francisco is 40 miles away from where the 49ers now play. You don't often get the ability to feature a stadium and city in the same shot. In Las Vegas, as is so often the case, you get it all.