Mark Davis Was Playing Slots in the Las Vegas Airport Waiting For Orianthi's Plane to Arrive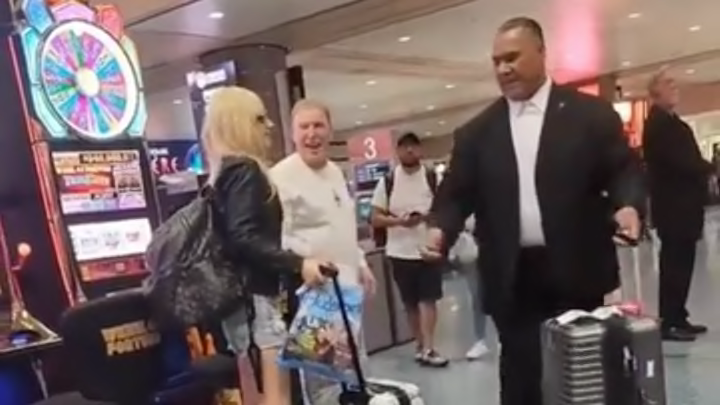 The Las Vegas Raiders hosted the Green Bay Packers on Monday NIght Football in Week 5. While the Raiders won, ESPN did catch Vegas owner Mark Davis looking upset in his booth. Davis just happened to be sitting with a guest and it turns out it was Australian guitarist Orianthi. Who knows what their exact relationship is, but there's video of Davis playing slots in the Las Vegas airport on Monday as he waited for the musician's plane to arrive.
Anyone who has watched Seinfeld knows what a big deal an airport pickup can be.
If the unique name doesn't ring a bell, you're probably familiar with Orianthi's 2009 song "According to You." The 38-year old has previously toured with Alice Cooper and Carrie Underwood and was going to play lead guitar on Michael Jackson's This Is It tour.
As for Orianthi and Davis, 68, their friendship is not new. Orianthi was by Davis' side in October 2022 when the Raiders hosted the Denver Broncos. It was the first Raiders win of the season after an 0-3 start.
Denver Broncos v Las Vegas Raiders / Ethan Miller/GettyImages
Orianthi posted a few pictures on Instagram from the game last night and previously shared a picture of herself with Davis way back in 2015. So the only thing we know for sure is that they're close enough for an airport pickup. What more can you ask of any relationship?