Rafael Nadal Has a Superyacht and It Sounds Fabulous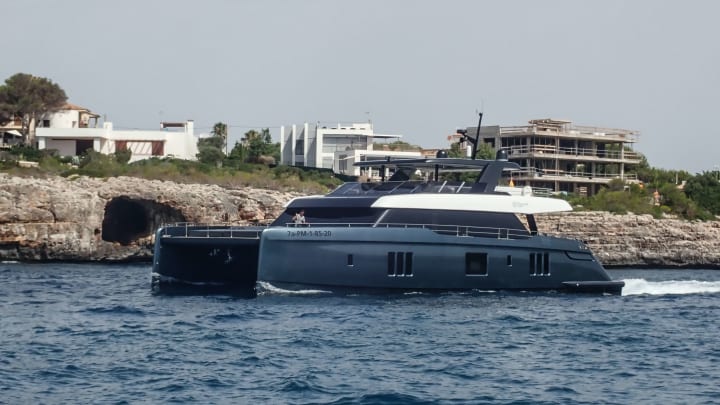 Rafa Nadal's superyacht. / Miquel Benitez/Getty Images
Rafael Nadal, the defending US Open champion, will not be attending this year's Grand Slam event in New York City because of concerns over the coronavirus. So where will he be in September? Perhaps on his new yacht... Sorry. His new superyacht.
Nadal did an interview with Forbes' Bill Springer. I'm not saying this was the most poorly-timed profile ever, but maybe when the entire world is in a recession you don't do an interview with someone's whose bio says he covers "ultra-exclusive real estate, superyachts, and luxury travel." Let's bask in the glow of Nadal's customized Sunreef 80. Via Forbes:
"Firstly, you can customize the boat and make it truly adapted to your needs. Second thing is when you are at anchor, the stability is just unbelievable. You can always relax, sleep, it's perfect. Sometimes you won't even feel you are on a yacht, because it feels so much like a home. It's a yacht that you can use like a home. The saloon is bigger than in my house, honestly!"
Sounds like a great place to quarantine to be perfectly honest. I mean obviously you're going to miss your home saloon, but the bigger saloon on your boat will work in a pinch. And before you think his yacht is too big, Nadal mentioned that this was the biggest boat that could dock near his house in Mallorca where things look pretty swell.
Of course, it's not all glitz and glamour. Nadal has to spend a lot of time on dry land doing tennis stuff.
"I am going to use the boat most of the time in the Balearic Islands. Mainly because I don't have a lot of time these days to go very far. I have to keep training and keep my focus on tennis. Hopefully in the near future I will have the chance to take the boat to other places and discover the world."
Certainly sounds like the 34-year-old Nadal is considering retirement. And who wouldn't when you've got multiple hulls?