Police Ticket Florida Man Driving 'BOOTY PATROL' Truck Because Florida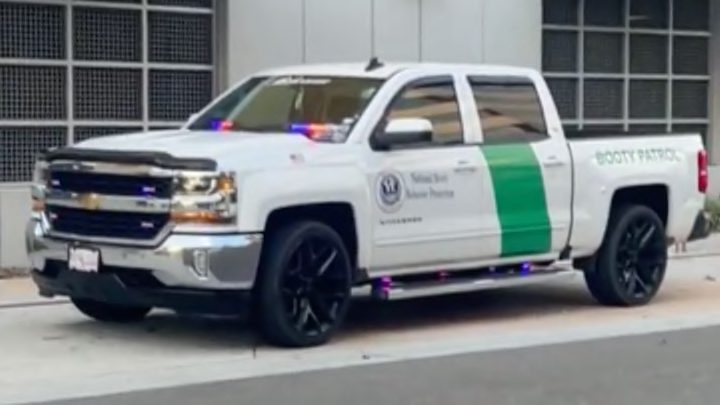 This week in Florida news police pulled over and ticketed a Florida Man driving a Florida Truck marked BOOTY PATROL. The DeSoto County Sheriff's Office gave Gabriel Luviano a $113 citation for impersonating a police officer because his Chevy Silverado had prohibited flashing blue and red lights. The paint and BOOTY PATROL decals were not the issue. Gabe Goulding of Fort Myers' NBC 2 caught up with the driver.
Luviano added $5,000 worth of lights to the $75,000 truck, which he doesn't use on the road. He never intended to actually impersonate an officer, but just wanted to "have a little fun" because he was bored.
It's hard to imagine a better Florida story. Just a kid with what must be a monstrous car loan making his truck look like a border patrol vehicle as a goof. And then he gets pulled over and people start making fun of the actual cops. And for some reason there's a short clip showing a chicken on the hood of the truck in this new story.
The fact that he doesn't have a pet alligator in the bed of the truck wearing a Female Body Inspector hat is probably the only surprising part of this story.