Latest NFL Leads
Endzone View of PJ Walker's Game-Tying Touchdown Throw is Incredible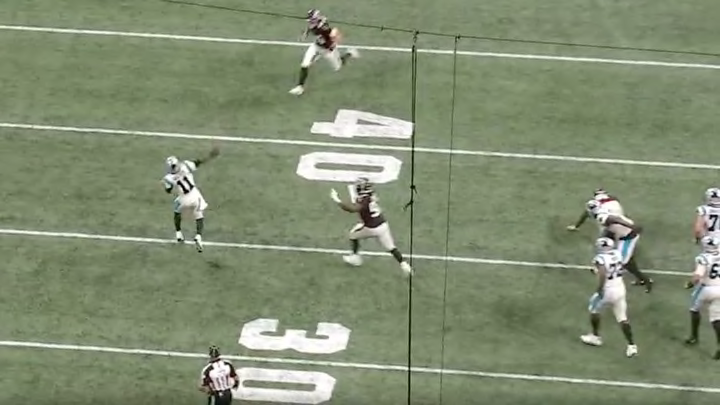 PJ Walker /
The Carolina Panthers were one dumb unsportsmanlike conduct penalty away from pulling off an insane comeback against the Atlanta Falcons and taking first place in the NFC South yesterday. DJ Moore pulled in a Hail Mary from P.J. Walker to score the game-tying touchdown, but ripped off his helmet and got a 15-yard penalty, pushing back the potential game-winning extra point try 15 yards. The kicker missed, the game went to OT, and the Panthers lost.
Which is a real shame because Walker's pass was absolutely incredible. Probably the best of the year. So we will mark the moment and try to remember it forever with this post featuring the endzone view of Walker's throw.
Good god. To drop it in the bucket like that while running to his left is wild. And it wasn't even a straight-line throw-- Walker had to fade the throw a little to the right and did so perfectly with absolutely zero margin for error.
Walker was the third-string QB heading into the year and made the throw of the season. Just another reminder of how different these athletes are.