Pitt's Devin Danielson Horrifies Teammates By Smashing Himself in the Head With His Own Helmet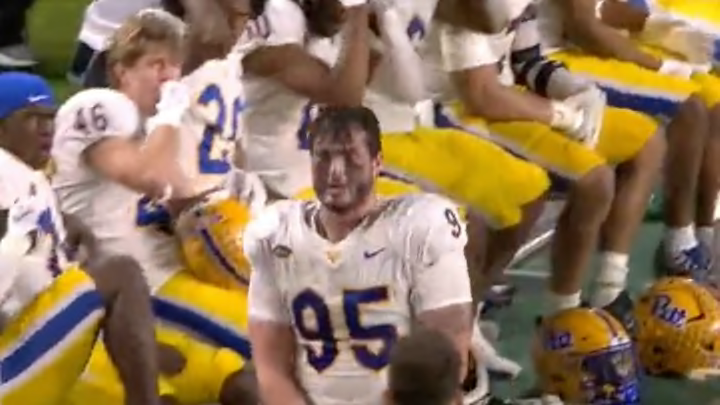 Pitt beat the Miami Hurricanes, 42-16, on Saturday night at Hard Rock Stadium. Based on that score you would assume that the fourth quarter was all a big celebration on the Panthers' sideline, but some people are just never happy. Like senior defensive end Devin Danielson who was seen smashing himself in the head with his own helmet after Xavier Restrepo scored a touchdown for Miami to cut the lead to 26 with 7:22 remaining.
Danielson was having an animated discuss with teammate Tylar Wiltz and Wiltz was smiling so when you see this for the first time you truly have no idea where this video is headed. Deslin Alexadre then tried to intervene and Danielson pulled away and decided to take - whatever - out on his helmet and his head.
The reactions of the teammates as this happens really tell the tale as they recoiled in horror. Of course, Miami never scored again and Pitt held on for their seventh win of the season, so who is to say if Danielson was overreacting?