Skip Bayless Thinks Phil Jackson Could Be Next Lakers Coach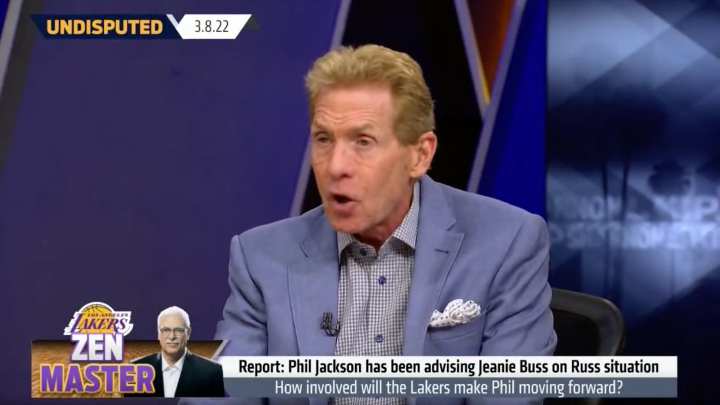 Skip Bayless /
The Los Angeles Lakers are at the center of basketball discussion per usual as they continue on their struggle to make the playoffs. Russell Westbrook is publicly complaining about his WestBrick nickname. Anthony Davis is still hurt. And yesterday, news broke that Phil Jackson had emerged from the woodwork to advise owner Jeanie Buss in some capacity. Add in the premiere of Winning Time: The Rise of the Lakers Dynasty on HBO over the weekend and all anyone can talk about is the purple and gold.
Skip Bayless also happened to return from a two-week break this week and, as always, had plenty to say about the Lakers. Today, he explained why he believes Jackson could end up coaching the Lakers again after their disastrous season so far.
Okay! Yeah. Maybe. Probably not! But maybe.
I guess it wouldn't be a shock to see Jackson try and leverage his influence within the organization to get the job if and when Frank Vogel is dismissed. He obviously has the pedigree and resume. His Zen Master tricks are probably expired but might be what this bizzaro Lakers team needs because regular basketball solutions have yet to bear any fruit. And basketball lifers like Jackson generally have a tough time riding off into the sunset.
On the other hand, Jackson is 76 years-old and hasn't coached from the sideline in over a decade. He entered very public disputes with both LeBron James and Carmelo Anthony the last time he was in charge of anything important. The game of basketball barely looks the same as it did the last time Jackson was coaching in 2011. Jackson tried to force his triangle offense on the Knicks in 2016 and it failed, leading him to complain that it was due to the lack of requisite skills on the players' part than it being an outdated scheme.
The last time we saw Jackson in the public eye, he was out of touch in every way possible. He either did not understand or did not want to understand how modern basketball worked and blundered his way through most of his public appearances. Maybe he's changed, but it's hard to see even his old friend Jeanie Buss agreeing to let him come aboard. And it's even harder to see LeBron giving the green light.