'Good Morning Football' Baffled By PFF Top 10 Coaches List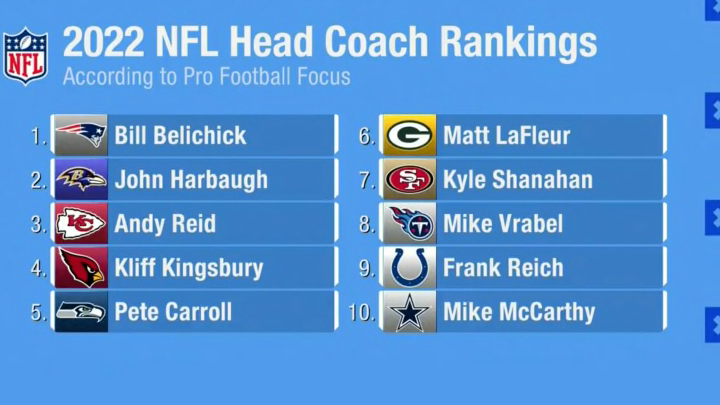 PFF's Top 10 Coaches List /
We're deep into the doldrums of the NFL offseason, which means Pro Football Focus is busy making a bunch of lists that get people mad. A tried and true content strategy that everybody engages in. The most recent of these endeavors came in the form of a Top 10 NFL Coaches list. PFF used all their weird metrics to formulate a ranking that features the usual suspects at the top, but gets progressively weirder the further down the rankings you go.
The biggest shock on the list is the absence of Sean McVay, who just won a Super Bowl. There is also no Mike Tomlin, and Kliff Kingsbury is honored with a top-five spot. Mike McCarthy, perhaps the most criticized man in the NFL when it comes to actual coaching decisions, is ranked No. 10. It's all quite controversial and the Good Morning Football team did their due diligence in breaking down the problems they have with it.
More Articles About NFL History:
Kyle Brandt put it simply: "Is this the worst list I've seen in my life?"
Really, Brandt's whole segment is representative of the reaction of everybody viewing that list. PFF's advanced metrics are extremely useful as far as understanding the less-tangible impacts of players on the field. But at the same time, common sense should come into play at some point. And common sense suggests the guy who just won the Super Bowl should probably be ranked above Kliff freaking Kingsbury.
PFF does have a point that coaches should be highlighted for doing more with less. That appears to be the primary reason for McVay's absence. He won all the games that mattered but the salary numbers on his team suggest he had a lot to work with. But advanced coaching stats apparently don't account for the fact that there's very little chance Kingsbury or McCarthy can do what McVay did with the tools at his disposal.
Hats off to the GMFB team for breaking this down so well.