Peter Schrager Brilliantly Auditioned for 'Dream Job' Without Wanting the Dream Job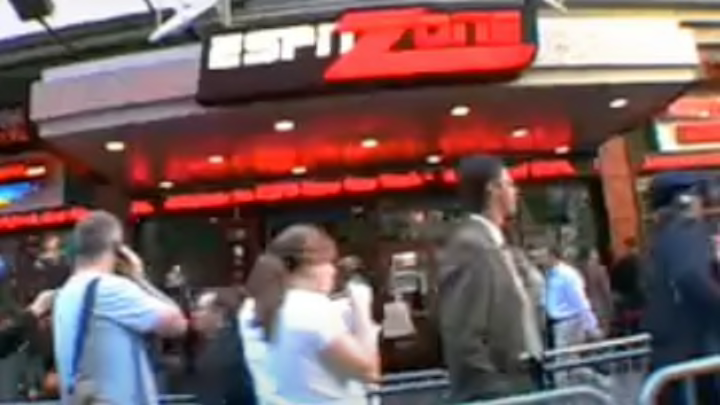 If I've learned one thing in my time on the internet, it's that one simply cannot consume enough Dream Job-related content. Just when you think the well is running dry, a savvy writer from The Athletic squeezes out the definitive history of one of the best ideas ESPN has ever conceived. So with that in mind, here's a fantastic story told by Peter Schrager on the latest episode of The Press Box with Bryan Curtis about how he auditioned for Dream Job without actually wanting the dream job.
"I lined up at the ESPN SportsZone in Atlanta in 100-degree heat wearing a T-shirt that says 'I Heart Tom Clemente,' who was one of their hockey analysts at the time and I was like I'm going to make an impression on these guys. Waited for about an hour, got in and they straight up asked 'okay, what makes you the next great SportsCenter anchor?' And I'm like, 'oh, I don't want to work on SportsCenter, I have no interest in being a SportsCenter anchor.' As much as I respect the work they do, I just want to write for your website. I want to be the next Ralph Wiley, I want to be the next Bill Simmons.' And this is when Page 2 was at its zenith.
Al Jaffe, who was running a lot of talent for ESPN at the time, pulled me aside and he's like 'here's Howie Schwab who's our lead researcher, I feel like you two would be kindred spirits, you're both encyclopedias.' Howie, to his great credit, was like 'here are the people you need to know on the dotcom side,' opened some doors and then it really became a possibility."
Turning a reality show into a job fair did two things for Schrager. One, it allowed him to advance to the second round and have an in-person audience with judges Stuart Scott and Kevin Frasier. And two, it led to an opportunity with Page 3, for whom he wrote the definitive piece on Major League Baseball walk-up music in 2004. Which, sadly, does not appear to be live anymore. So please, anyone, if you know what jam Derek Bell sauntered to the dish to, my DMs are open.
This is just one example among many of the ways the Good Morning Football staple hustled his way onto people's radars. The entire podcast is worth a listen as it lays out the amount of dedication and luck it takes to get those initial breaks.