Penn State Switched Channel on Student Center TVs as Freeh Report Was Released [UPDATE]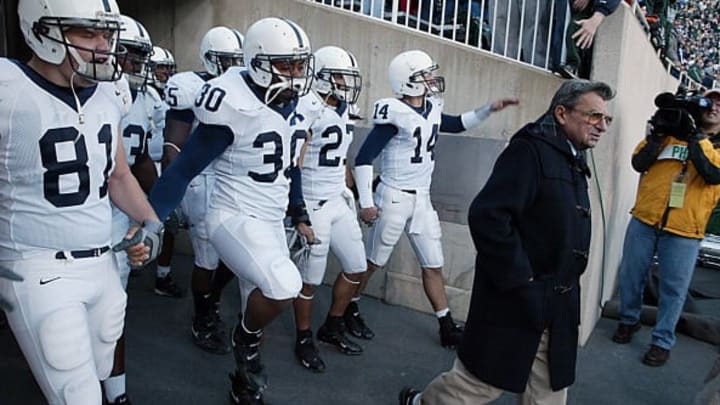 With some students assembled to watch the release of the Freeh 
Report on CNN, TVs in the Penn State Student Center suddenly switched to Public Access at 9AM, just as it was released.
But, just as an anchor was ready to speak about the report, the television screens suddenly went blank. They then turned to a public access channel featuring a reporter from The Morning Call newspaper in Allentown about the state budget.
Everyone watching suddenly went scrambling to find a way to switch the channel back at the student center, known as the HUB-Robeson Center Facility, or simply, "the Hub."
The multiple television screens suggest this was coordinated. Not sure what rational explanation there could be for that. Risk of a spontaneous incident was minimal since it was 9AM and most students would have departed for the summer. This isn't 1985 where switching a television set would have stifled the news. The last desperate act of a Paterno true believer?
[Photo via Getty]
[Update: Students in attendance claim the TV was turned back on for the press conference itself. Here is a link to the original report.]
[Update II: Here via Onward State is what purportedly happened.]
I arrived at the first floor of the HUB around 8:30 and went to the helpdesk. I asked the clerk if someone could change the channel to PCN when Louis Freeh's press conference would start at 10:00. He nodded and said someone would do it. For the next half-hour, I listened to the banter from bottom-of-the-barrel anchors of the CNN morning program. They chatted about sharks, movies, and Romney's appearance at the NAACP. At 8:59, a blue screen of death emerged on the screen, and it changed to PCN in anticipation for the press conference an hour later. For the visiting reporters and freshmen, it must have been a shock for them to learn that one does not simply change the HUB TV. While they were running around like headless chickens, I took the time to read the Freeh Report.
There was no plot afoot. Whomever was in charge of the television at the time knew that s/he would be in a meeting, and left the TV on a channel that was guaranteed to have the press conference. CNN never assured its viewers it would air Freeh's presentation or the question-and-answer portion. If the supervisor had left on news' worldwide leader (currently ranked third), the audience would have been delighted to an hour of jumped conclusions from the same network that informed us that Healthcare Reform had been fully repealed.