Paul Finebaum Says Giving Jim Harbaugh the Benefit of the Doubt Was Biggest Mistake of His Professional Career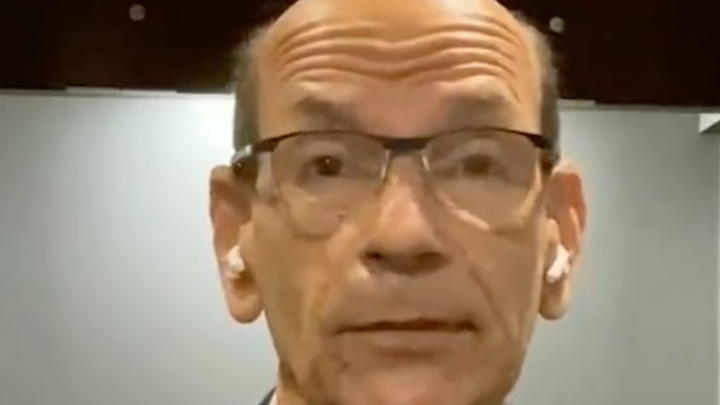 Paul Finebaum was among the cadre of voices who put takes out into the universe during the early stages of Michigan's sign-stealing scandal that are going to age like Jim Harbaugh's favorite beverage. Back on Oct. 20 the mouth of the South suggested that all the poking and prodding was piling on the Wolverines head coach.
Finebaum defending Harbaugh, who he hasn't exactly been a big fan of through the years, was noteworthy and reflected the thoughts of a lot of people at the time — that the NCAA investigation was an unnecessary mountain from the molehill of a low-level staffer possibly freelancing.
Obviously in the days following, the state of play has changed quite a bit and there's not a Connor Stallions spying story that would be implausible if that was, in fact, him on the sidelines cosplaying as a Central Michigan staffer and hey what's that blue dot on the sunglasses do?
Finebaum addressed those comments on Get Up this morning, calling them the biggest mistake of his professional career while chastising the Big Ten for sitting on their hands as this all plays out.
A bit hyperbolic? Sure. But give him credit for acknowledging that mistakes were made. Something tells us Finebaum's colleagues who tried to paint this as a nothingburger won't be having a similar public reckoning.