Mac Jones Gets Trucked by Chandler Jones as Patriots Lose to Raiders in Dumbest Way Imaginable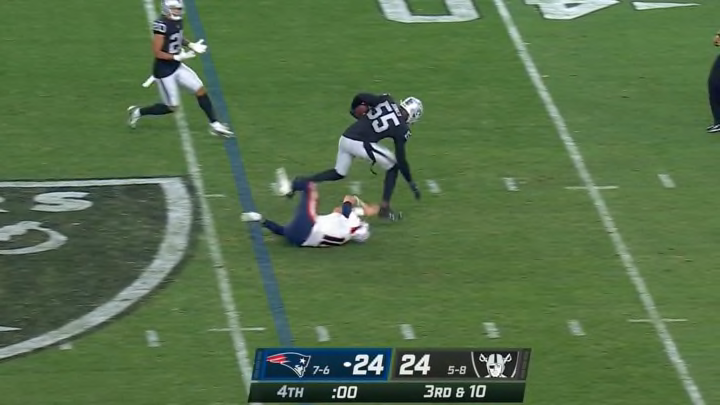 The New England Patriots and Las Vegas Raiders appeared to be headed to overtime on Sunday afternoon. The Patriots had the ball at their own 44-yard line with three seconds remaining and zero timeouts. The game was tied at 24. Normally a team would simply kneel it out and welcome overtime with open arms. The Patriots did not and it led to a disaster of epic proportions, leading to a Raiders win that will live on in memory.
Mac Jones handed the ball to Rhamondre Stevenson on the final play of the game. Stevenson broke through the line and made it about 25 yards upfield before he tossed the ball to Jakobi Meyers in a last-ditch attempt to break a long touchdown.
Then Meyers thought it would be a good idea to try to throw the ball back to Jones, who was standing around near the line of scrimmage watching everything unfold. Raiders DE Chandler Jones leapt in the air, intercepted the pass, and ran right over Jones before taking it to the house for a game-winning TD as time expired.
Absolutely unbelievable. This might be the most improbable way a team manages to win a football game we'll ever see.
What a disaster from the Patriots.